My day started at 10.45am .. Wash up den online.. Slack at ms awhile wiv MingHui.. Then abt 12.15am, brought Raven to my grandma's house cuz she wanna see him.. We left Raven at her house at went off to Bugis to shop.. My dad went to Sim Lim to get some stuffs so my mum, sista n me headed to the shopping palace.. xD I bought a Kitty ring.. Quite cute.. But i wasnt in the mood for shopping..

Ard 3pm, my sista received a call from her boss and ask her to rush down to work if she can cuz its shorthanded over there.. Dang! So we went to fetch Raven and drop my sista at her workplace and went home.. Ahhh.. Boring.. So i brought Raven down for a walk..

I just came out of my shower.. Had a very long shower.. Maybeline, wake up.. Face up to the reality.. Stop living in ur dream.. Maybe everything was meant to be a prank or wad? Maybe everything wasnt meant to be? Maybe it was just a dream.. Maybe.. Maybe its time to wake up..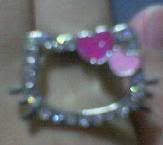 Crystals surrounding it.. It look nicer in real life..

Mabelyn : How can i make u understand my hart?