Yay~!! 1 last week.. 5 more days of work till holiday.. I cant wait to go back to simei.. Cant wait to leave NUH.. Going to meet all my clings on 19dec to go back to sch to get our result slip.. After that maybe going out? Mmm.. not sure..

My fringe is kinda long now.. So i changed my parting temporary, just for 1 week.. But after i rebond my hair i will cut it and change it back.. Hehs.. Cuz i prefer that hairstyle.. =P

I'm utterly disgusted by Harry Potter and GOF movie cuz its totally different from the book and not detailed enuff.. If i nv read the book i guess i wont be able to understand the movie at all.. But there were some parts which were rather hilarious..And that ger Harry've got a crush on looks like a china ger but shes scotland born.. O.o?? I love the show, the cast but not the story..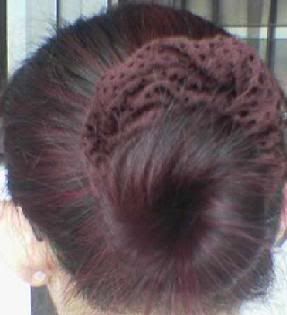 My hair bun in the ward.. Hehs! Not really VERY obvious rite?

Mabelyn : "lie to me" she whispered .. "I love you" he said.. );