Noticed i change my blog template? Cuz i dun wanna clash with my fren's blog layout. Therefore i changed it and design it on my own.

Basically i travelled almost the whole singapore for the 2 days. Luckily tml all my relatives are coming over to my house to play which means i dun have to travel to anywhere (:

Day 1
My first stop was my mum's side. Went to my grandma house stayed there for an hour or so. Next, went to my great grandma's house. Woot, shes 100yrs old tis year! Shes so so so cute!


Took this at her house.
Balloon dress wiv Jeans.

After that, went to my dad's side. Went to visit my grandpa. Hes also v cute. I dun understand y elderlys are so so so so CUTE. And then, the last stop is my cousin's place. Stayed there for quite a few hours.. Luckily i brought my labtop along to my cousin house to use her wireless lan, if not i will die of boredom watching them gamble. [ Cuz i dun like to gamble =P ]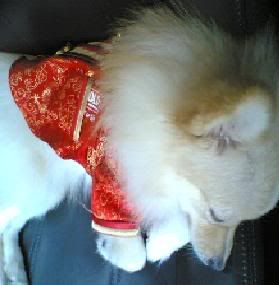 Raven sleeping in my Dad's car.
Wearing his new yr clothes.



Day 2
Well, didnt manage to take a pic of Raven wearing his 2nd suit cuz i was too busy. The trip from Jurong to Sembawang was darn far so during the trip, Adel and me took alot of candid shots using my labtop's built-in cam program which includes crown, specs and etc.



Acting cute and making stupid faces infront of the labtop.

When we reach my cousins place, we took alot of stupid snappies too.


Me and my cousins. Well, just the 3 of us. The rest are busy.

Picture of me. Day 1 and Day 2 (:

Maybeline : U'll never noe how much i missed you.