After 2 stressful day, My Biology test is finally over :) Confident of passing but wiv flying colours anot i dunno.. Maybe, Maybe not..

Morning i smsed YQ asking him not to be late today cuz i got exam for the first lesson.. Lol.. And i ended up late instead.. zZ.. Becuz of that bloodie 154!!

Today after sch, Ms Lim asked me n my cliques to stay back she say she wanna talk to us. Then i was like damn shocked.. What does she want us for? Hahax.. Who noes, she just wanna our feedback and hw r we coping on.. It lasted for about 40mins.

After that, we walked to Simei to take train.. Miracle ya? Maybeline the-hates-to-walk-ger acutally walked to Simei today under the blazing sun..! Then when the mrt came, the train was rather crowded so we sat mrt to Pasir ris n back to Jurong for them and Lakeside for me.. I waiting for that bloody 154 for 10mins! Wth. Wads wrong wiv 154 today? In the train, we were like disturbing each other.. Kept taking ugly pics of each other.. Lolx..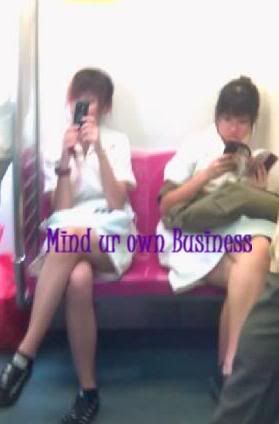 Unoticed. Took by either Eileen or WeiLing.

Maybeline : So afraid to Love.