Look at the time again =x 6.44am n nt sleeping but blogging at tis time. Believe it or not?! I went for school's CIP from 12midnight to 7 in the morning ! Yup. Darn tired. I met Eileen n Weiling @ 11pm @ Jurong East mrt platform. After that we went to meet Julieet at raffles place. HOHO. It was quite boring initally cuz we got almost nothing to do. And so, we went to walked ard. Bout 5plus, i went to run and i ran for 3.0km. OUCH ! I feel darn giddy n felt like vomiting. But nvm, its for charity. (:

Yup. And we went to have our breakfast at MacDonalds. It was already 7am. We left the place about 8am and HOME SWEET HOME. I was already half dead when i boarded the MRT for home. Yea.



3am @ Clarke Quay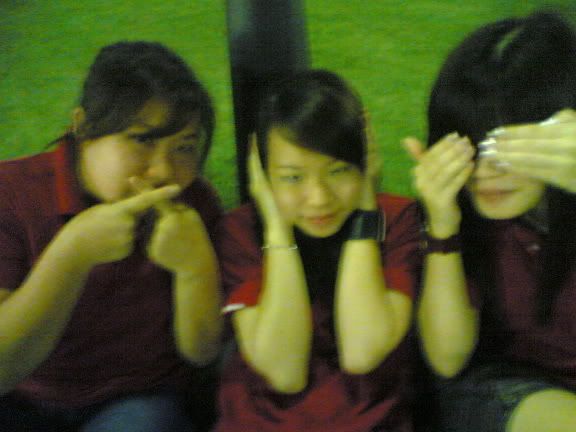 I shall now present
"Teh See no evil, Hear no evil n Speak no evil ! *opposite*"

Maybeline : I'm so lost.