HOHOHO ! Today was fun, first lesson was weird. We (in groups) were given 1 raw egg. And we had to think of ways to throw the egg from the 5th floor to the 1st floor without breaking the egg. My group wrapped the egg with aloooooooooooooooooot of rough paper n den wrapped with jacket. The final product was BIG ! Its like from a small egg to 1 freaking BIG BIG egg. So i went to throw (and afew of my frens la), teachers and the rest of the class was at 1st floor. One by one throw, only 1 out of 10eggs managed to escape death ! MINE BROKE ! :(

Tml need to go back to sch for Nurses Day Celebration.. wth.. on a SAT?! Meiling, Cara, Eileen and me went to tamp mall after sch to shop around and have lunch at the same time.. Hahas. At first they went to the food court there to eat n i didnt eat cuz i was full at that time. Then we went to Toyrus to play and bought some whistle for tml's celebration. GONNA GO HYPER TML ! After that went to popular to get my files.. Sad ar dun say abt there.. Got pple hide from me.. hahaha.. Shop shop shop.. Walk walk walk.. Meiling used my hp to called adriano cuz he was there too.. hahaha.. Ask him to come down n take pics !! And then.. WOOOO ~ many many smiles :D:D:D:D



Ahhhh.. I feel xingfu. whahaha.. lame ass. lol..
From 2 different machine but equally ugly >.< (i mean me! not them) Lazy to post all the pics out. So make do with these. :D Chonghu was there too. He was in some pictures too but cant scan in cuz the pic was too small.. zzzz. He took the big 1. hahas.. I dont understand y my mole is visible but not adriano's. haha..
Princess Adriano. whahaha. SO CUTE RITE?!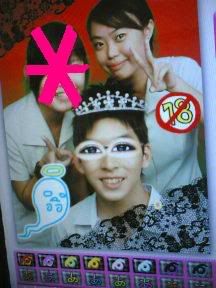 i'm so ugly in there. seriously ! so i strike out my face.
But its funny ! Chonghu did that to Adriano's eyes ! hahaha..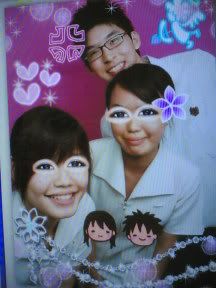 ... and i did this. :D:D

Saw my fringe? I think its too short nw.. Fussy me ! long or short also complain ! :/

Anyway..

@ cine b4 going for kbox few days ago. n of cuz b4 my haircut >.<
Maybeline : u make me smile from ear to ear. Honestly !