-edited-

Wendy : conscious clear, no fear
Maybeline : :D

That day, * told me so much about **
Didnt noe shes such a person.
yucks.

------------------------------


I cant believed i spent almost 4hours crapping with my bestie(s) yesterday.
( Wendy, Cara, MeiLing )
Hahahas. All of us have got a malay name now. [ including eileen ! ]
It was damn funny can !
We were like so boring.
Then we add each other into conversations.
And crap crap crap.
Time flies while crapping !
Coolness !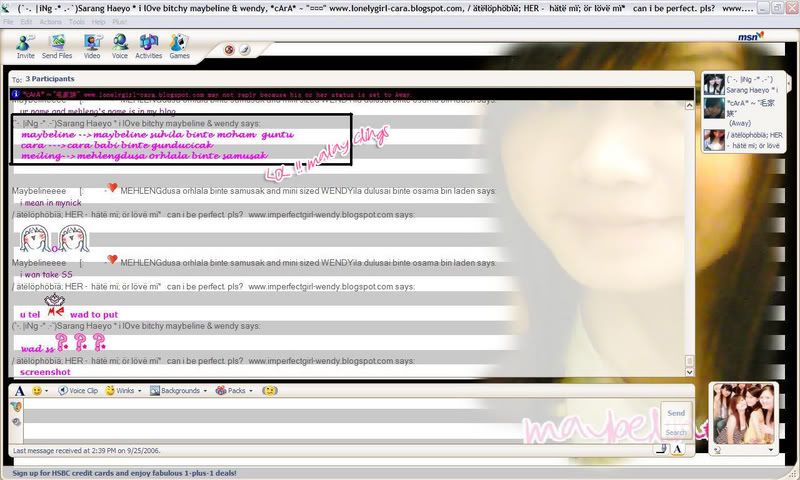 (click to enlarge)

Was making blog(s) these 2 days.
For Mingyu, Adel and Eileen.
:D :D

Meiling was damn agitated when Jon.L lost !
Aaww. Actually it was kinda expected.
Because i predicted it to be the same as 2 yrs back.
So bitch, relax k? ;]
And to certain stuffs also. ;]

And now crapping with Wendy.

Wendy : A and B same same onez.
Wendy : They are people with low intellectual skills mah. Cant blame.
...
...
...
Wendy : Or u say u can/use have mine, i go and make/think new one.
ME : lol. No. I should blog like this.

refer to below.

If u wanna be me, i will let u be me.
I can change myself into another person.

Oh god. I cant believe this.
Someone kill me please.

I wasnt saying you. But if u thought its u. Then so be it. ;]
Its an insult to see the word -equal-
I use my brains most of the time.
Not all, but most of the time.
How about you?
I think/form/do/design/make. [:
So how can we be the as equal when u dont T***K & F**M ?

The manicure Adel did for me last tues faded a little !
Aww.
No matter wad i must ask her to redo it later.
white white white ~
black black black ~
:D :D

Going to mac at 10pm to meet YuQiang.
Gonna watch High School Musical(?).
I hope its nice.
Cuz majority says so.

Steamboat with my bestie(s) tomorrow.
Bet it will be hell fun.

Till then. [:

Maybeline : Cant i be

8teenx

tomorrow?!