HAPPY 18th BIRTHDAY CARA !



Shes a fren whom i loveee to tease n play.
But shes a good friend.
A friend i wouldnt regret having.
A friend i wouldnt want to lose.
A friend who cant make up her mind at times,
But still, a friend who is there for u !
Not to give u advise.
But to keep quiet.
And just sit beside u.
Without the need of saying anything. (:
My sleeping partner in MRT.
May ur wishes come true and friends forever !


Yesterday paid about $20 for the Suki Sushi buffet.
But i ate about less than $10bucks.
The rest ate like mad.
Esp my Bitchyling. Salmon and salmon !
But its worth it, cuz we had LOTS of laughters n fun in there.
:D
Loveee the cheese and chocolate cake there!

( If u are wondering where is Suki Sushi, its at Cine )

After that we went to kbox.
Sang for straight 5hours !
At first Eileen wasnt very high because of *.
But after an hour, we were like damn damn damn high i tell u.
Including Eileen.
I think Cara was the most high one. lol.
I drank about 4 cup of alcohol.
Whereas the rest drank less than half a cup.
Tried Tequlia. Woosh. Bitter.
High high high.
Wonder if i got the spelling correct.
We <3 dancing.

Shall let the pictures do the talking.. :D




I stick out my tongue at the 2nd pic. The big head there. But not visible.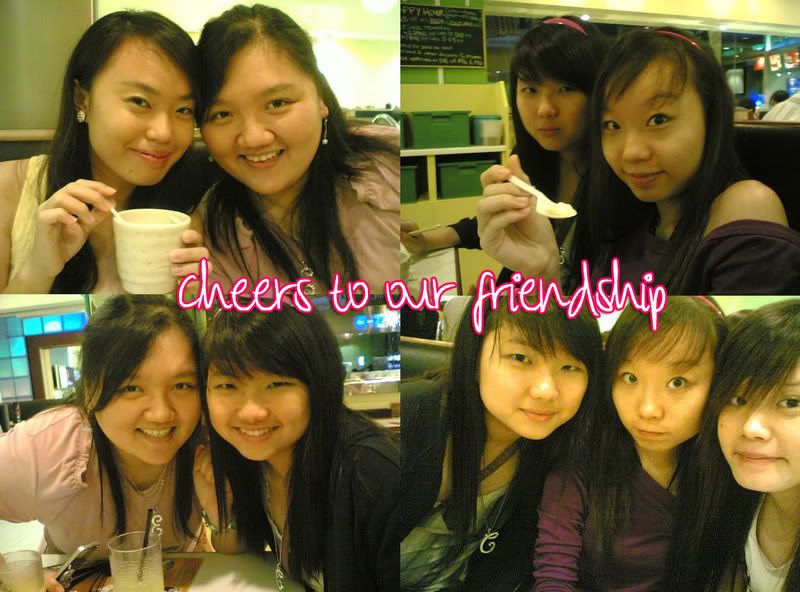 Maybeline : i....