Steve Irwin the famous crocodile hunter died while fliming.
SADDED
:'(

I used to watch his show when i was young.

urgg. Another life, another talent lost.
And his kids are like still so young aged 8 and 3.

Hes the bravest ever. :')
In my memory, u'll forever stay.

@10.40pm

---------------------------------------

Ahh..
Went to do Project @ Bugis on saturday.
Boring life.
Went to trim my hair too. Cuz its toooo long.
Hahas.
And then went out with family for dinner @ night.
Shopped a little. Bought 1 top, earrings, n a belt
:D

On Sunday i went to bugis(again)
But this time, with my family.
Shopped again. whaha.
This time i bought 3top and a watch.
:D:D



Freaking cute rightz?! whahaha..



On Cara's Bed. heh hehhhhh..


I'm the one in the middle :D


whahaha.. kiddy n my new watch. LOVEEEE the watch :D


Looking sweaty with Small eyes !
Look at Weiling's hair ! PERMED :O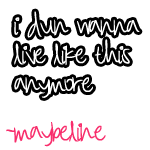 Maybeline : Cant i give in all my tomorrow for just one happy day with you?