Mood : Unknown Yet

HAPPY 18th BIRTHDAY TO MAYBELINE !

YAY! Its 12midnight.
So I am like officially 18 already.
Each time i see my friend turn 18,
I will be green wiv envy.
And yup. Its my turn today.

YES.

IM E I G H T E E N.

8 t e e n x.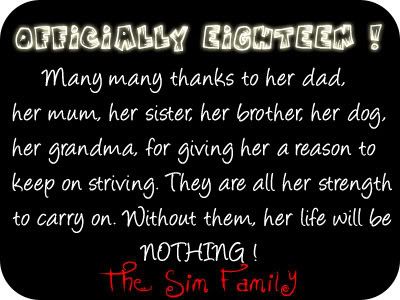 And of cause,
A big thankyou to all my friends who have been there for me.

x HuiYan ; Who never fails to be there when i needed her most.
x Wendy ; My little one.
x MeiLing ; My bitchyling.
x Eileen ; My sleeping teddy.
x Cara ; Though i like to tease u but i still love u kays !
x Mingyu ; Although we always say wanna go out but end up nvr. But i believe the time will come soon :D
x HuiXing ; Without you, My attachment will be boring.
x Coffee ; Surprised?! I havent forgotten you. But thanks for everything.

and so on...
I've to stop, if not my blog will be flooded with names.

And to those whom i nvr mention,
Not that i dont remember u guys kays,
Just that its kept deep within my heart. [ Including the names above. ]

LOVES.

I hope today will be a good day. (:

Will be back at night to update.