Mood : Weird

Yesterday was horrible.
Bored to death.

Aaww. Miss you so. ):
I guess when u miss someone/something too too much,
You will dream of them.

And im like so scared.
Because i had 2 v nice n sweet dreams again.
They day before yesterday n yesterday.
Both dreams are about . . . . . . .
But in reality, it will always happen the other way round.

Sigh.

The Grudge 2 is not nice !
Quite scary but i hate movies with no ending ! ;[

At night, went out wiv parents for dinner n stuffs.
But i skipped my dinner.
Ate some cheesy hotdogs only.

Today, went to bugis with Wendy n Huiyan.
Nothing much to shop.
Well, at least HY n me bought 2 tops whereas Wendy bought 1.
Bought some Jewels to decorate our handphones too :D
Lunch at KFC. [ Wendy ]
But HY n me ate abit of sushi.

Tmr is a special posting for me n Yama.
9am - 5pm at Clinic.
Loves to start at 9am but hates to end at 5pm.
-Whines* Soooo late.


The White and The Black :x




The bruise is getting more n more obvious !

Ever wonder how i look like when im still in secondary school?
whaha.
Kiddy. Yes, darn kiddy.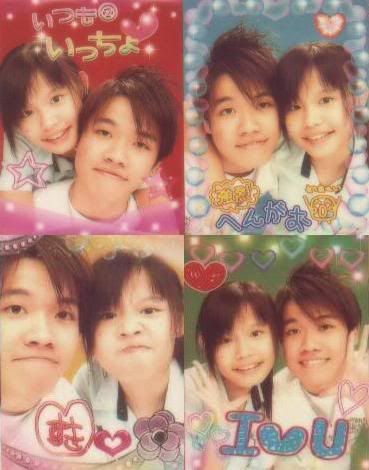 Taken on Jan 06. lol.

I pestered GJ to send me all the neoprints we took in the past.
Cause I asked someone to help me keep when i was changing my furniture.
And he lost all of them :/

Dont be mistaken.
Im nt holding on to the past.
This r/s ended long ago.
lol. I just blogged it out to show people how kiddy i was.

And i noe i noe.
Still v kiddy now.
lol.

My life is empty.. without you. . .

Maybeline says : Miss you so