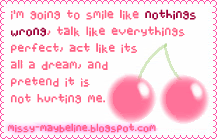 I'm not going to do any more animations for whoever that is not in the least appreciative or thankful at all. They'll just message you & ask for blinkies AGAIN & AGAIN when in the first place, they are not even using them at all. BAH! You're just wasting my precious time when i can take the time to rest & do many other things. Firstly, I do not owe u anything that i have to make blinkies for you. Secondly, I am not your slave or servant. I don't have to obey your biddings. Thirdly, I do not have to agree upon every request. Lastly & honestly, I don't mind sparing my time to make animations for you if you use them, But if you are not appreciative at all, I'm sorry, Do it yourself. I don't wanna be taken for granted. Thankyou.

Hopefully you know that i am refering to YOU. Search your conscience.

I spent the whole day helping out & taking care of 2 kids.
Very tedious but fun & loving.

Take J.O.K.E.S
Maybe it is wrong right from the start afterall.
Again & again.

I'm tired of all these.