Went on a date yesterday.
Before the date, I finished the whole fish that his mum cooked.
Good food is making me gain weight.

We watched Night at the Museum 2 at Vivocity.

We watched Night at the Museum 1 when we were still in honeymood period which was the first few months of the relationship, i think.
That was so long ago :)

Chanced upon a new collection of watches at G-Factory Casio.
Boyf finally saw a watch he like!
I owe him one since April so I bought it for him.
It was alot cheaper than expected.
Only $152 :DDDD Phew~~~~~~
Guess this is the only cheaper watch that is able to catch his attention.
But Hunny, it is really really nice!!

IT's HOLIDAY AFTER TOMORROWWWW!
SAY YAYYYYYYYYYYYYYYYY~

I got my bling bling pink crystal earpiece!
Getting other colours as well! :D
Can't bear to use itttttttttttt........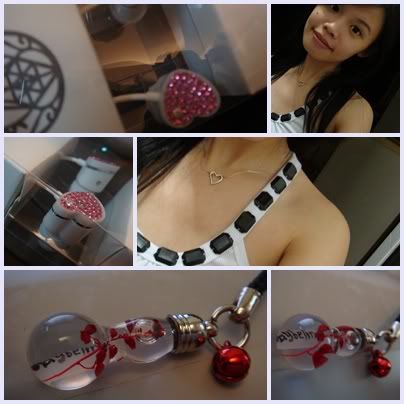 Look at this tiny little keychain with my name on the grain of rice!
The whole thing is only 1/3 of my little last finger and it is veryvery fragile.
And yet it cost $10!
Weehooo, at least i like it cause its special and unique,
BECAUSE THERE IS MY NAME ON IT. Hoho.

All my pictures are in another(first) laptop which is now currently at Boyf's house because his laptop broke down and we sent it over to the great Jon.L~

My online clothes arrived.
And I just submitted another list of $XXX, again, not all mine of cause.
GOD DAMN IT.
I'll quit shopping after this, FOR AWHILE.
Wanna save up another extra $700 in a month or so for something else :D
Cause I know Dad won't pay for it! :(