These pictures were taken on Wed,
when he accompanied me to school and waited for my test to end.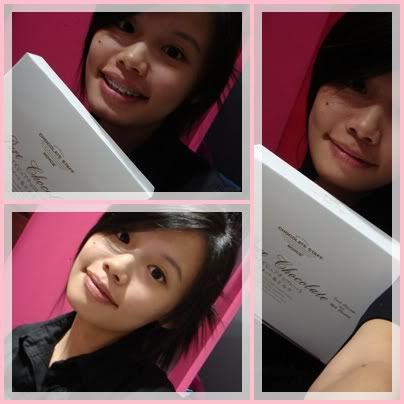 Me and my chocolate Royce which flew over from Japan!

I am sad! Because last night he came over to my place happily and left with huge disappointment.

He wanted to tell me that he bought me a Ralph Lauren Polo tee and asked me to try the size.
But I told him I don't like that shade of blue. :(

The boyf bought himself a big pony with stripes, retailing at $200 while mine was a small pony (because I prefer small pony than big, they look more classic though nth special) at $145.

So today, he is going down to Paragon to see if mine can be exchanged.
Sorry Dear~
He was really disappointed :(

My hair is shoulder length now.
Damn short -.-
I trimmed about 15cm away.
Many thought I cut it short hair already but I am saving that for my 21st :D
I want the type where the back is shorter. The front longer (below my chin).
Short to long from back to front.
A change for the adult's age.