My first ever driving experience.

The happy Dad picked me up from Boyf's place and drove me to the area where the spare car was parked on Saturday.
(oh, I skipped work because of the horrible, horrible cramp)

"Drive to express way" That's the first thing he told me which nearly made me fainted.
Would anyone in the right mind ask someone who just got her license 4days ago to drive there?!
I think he is expecting too much from a beginner :/

But the thing is that.....
.
.
.
.
.
.
.
.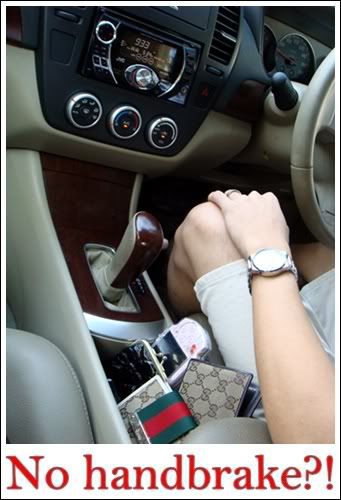 His car's "handbrake" was at the bottom. Something like clutch.
So its like 1 extra pedal which I have to get use to.

His intention was to do a test drive with me to see if I am really ready to drive his car.
My first U-turn with him was OHMYGOD, and he made me do 7 U-turns in total.

Even if I drive really badly yesterday,
My heart already told me he would allow me to drive,
because HE WAS THE ONE WHO "ASKED" ME TO LEARN DRIVING!

Haha. So after Dad got off, Hunny took the steering wheel and drove off to Republic Poly for CG's 21st (last minute thingy).
Soccer match in the evening followed by BBQ @ ECP.
We only had very few people but we had 4 cars.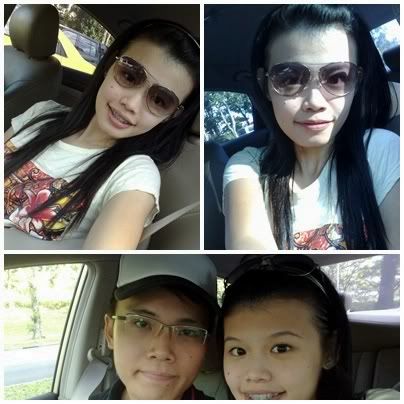 I didn't manage to take any peektures because I was hell mad at ECP's carpark.
Reached home only at 2am.



Dad made me drive again today.
Drove the parents to my paternal and maternal grandparents place.
Of cause, when there is a chance, I would pass the honour to Hunny. HAHA.

Butbut, I DROVE TO TOWN ON A SUNDAY.
MY GOD, It was hell packed with LOTS OF car and I was super scared.
The expressway looked like it was never going to end, and cars were dashing everywhere.
Hunny kept "Faster faster, pick up your speed, this is an expressway!!!".
I knew that I had to keep up with the pace but I was SCARED!
LOUSY YES! But I don't dare to go beyond 90km/hr :/
I really feel like a road hazard there :(

I think I should avoid driving to far places.
I am still not ready for that.




JJ says : 幸福小女人.
because even though I just passed,
Dad practically allows me to drive it whenever I asked for it.

Yes,
An unselfish Dad.