I am glad that I decided to drive to town today.
Because if I didn't,
my hands and legs would break from all the different places and big shopping bags.

I tend to buy more when I am down.
As a result, I have to hide everything incase my mom nags
because today, I am a little "over" on shoes.

Don't be deceived by this small picture here.
Inside it, there's like 4 pairs of shoe, a school bag & tops.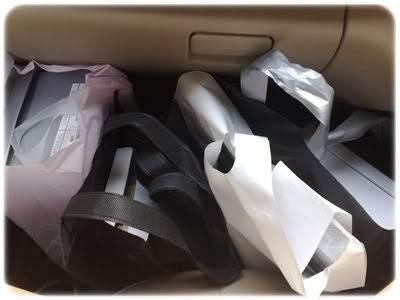 "Money can't buy happiness"
True. I am still feeling kind of heavy despite the many hours of shopping.
Heavy because of school work :/
Never got this worried before ever since I started on this course. Sigh.

I'll just pray for a better day tomorrow.
Bless you. Bless me.
Please.