I bought some new colours!
It is my first time trying non O.P.I colours!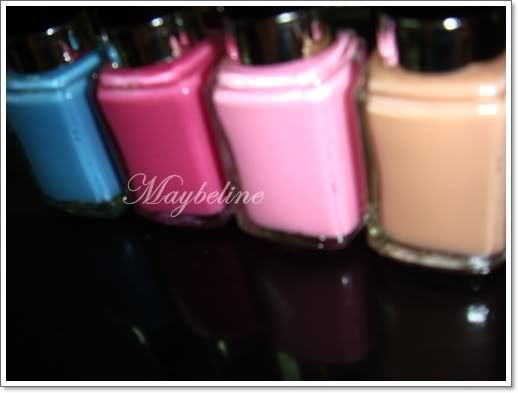 I don't usually paint baby blue at the palour or D.I.Y
But since it is cheap, Why not? Muahaha.

It was on sales! The colours were going at $1 per bottle only!!
*SCREAMSSS* SCREAMSSS * SCREAMSSS *
But I guess the quality will greatly differs too.

O.P.I colours are not exactly cheap.
1 bottle = $15 - $20,
If I were to buy all the colours in O.P.I, I would go brokeee.
There are too many colours that I like and I am not rich.
If I like 100 colours, then 100 x $15 = $1500 ??!!!
:( :( :(

SAD LIFE.
NVM! Go nails palour for Manicureeeeeee and Pedicureeeeee, MY FAV! :D

1/2 of my O.P.I colours! Mostly red shades over here because Adel loves red nails.




I have more at other boxes.
I like the colours there more because they are not so red!

Ahhh~ I love pretty naills~

&& I honestly feel that M and me are very kind!! HAHAHA.
We were at Jurong point last Sunday.
It was raining when we were done with breakfast and all,
so he went get the car while I waited for him at Level 1.

One really old grandma was asking a guy for directions to cross over to the other side,
The guy told her that she have to go up to level 2 and cross the bridge.
She find it too troublesome and seriously, going all the way up to level 2 again for her is not an easy task so she wanted to just cross at the shortcut.
The guy and me were quite worried as it was raining.
M reached and I walked forward to her and told her that we will send her to her destination.
The grandma was so cute. She kept talking to us in hokkien which we had difficulty understanding.
In the end, it was really far lor! Not walking distance at all!!

I bet there people there were filled with weird thoughts like
"kidnapping? omgomg" HAHAHA.