Dog brutally beaten to death at void deck
Read more here

The dog that was beaten to death is of the same breed as Raven!! Poor puppy!!
The owner even asked for a knife from the coffeeshop?? SUCH AN ASS.
MURDERER, be it killing of humans or pets, you are a murderer!

Dad read the article from the newspaper yesterday, and felt really mad about it.
You wouldn't understand how we feel until you have a pet dog at home!

Argh, Can't people learn to appreciate animals more??
Pets are meant to be dote, not for you to abuse it when you are in a foul mood!!!


Incident 2!

Click to read!

Incident 3!


Read comments from Bottom to Top.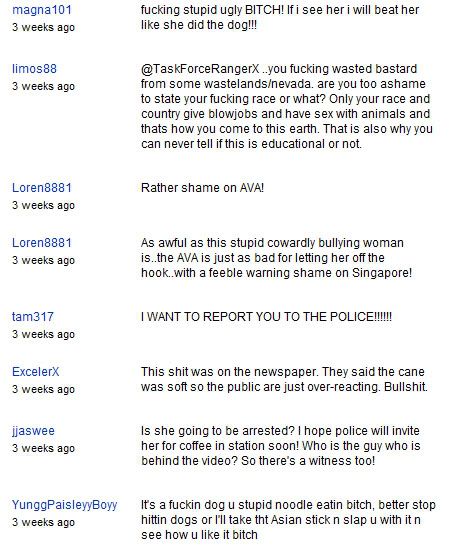 Cane soft and public was over reacting?
So you can go round holding a soft cane and hit others?
Look at where she was heading, it was the dog's face!
Won't it get injured?
Shouldn't she be punished by being caned with the soft cane too?

AND WHO IN THE RIGHT MIND WOULD GO AND VIDEO DOWN THE WHOLE PROCESS AND UPLOAD IT TO YOUTUBE?

What is the point of doing that? Instead of videoing it down, the guy could have just walk up to stop the girl?

ARGHHHHHHHHHHHHHHHHH!

Lets turn the whole situation to Mom, Daughter and Dad.
Mom was caning daughter with soft canes,
Daughter was terrified and crying.
Dad was busy taping down the whole process.

OH~ HOW NORMAL IS THIS SITUATION!!!!!

I don't understand. What is the difference between killing a pet or a human?
Just because human can work and bring in more money to the country and pets can't, so we are more superior?

Or just because pets can't talk, hence they are not able to express how they feel, so they have no rights to live?

ANIMALS = SLAVES?

Do they owe us a living?
They are just some helpless little creatures wanting to be dote on!!

You get death sentence if you kill a human, BUT WHAT ABOUT ANIMALS?
Jailed for weeks or months? Or fine?
WHY?!

Please people, Pets are like us too.
They are men's best friend.
Stop animal abuse!

Credits,
http://www.youtube.com/watch?v=kGgN1HlkgVw&feature=player_embedded
http://sg.yfittopostblog.com/2010/08/20/dog-brutally-beaten-to-death-in-sengkang
http://singaporeseen.stomp.com.sg/stomp/sgseen/caught_in_the_act/434146/woman_canes_and_canes_dog_in_woodlands_flat_even.html