Some of you have requested for me to write about little stories of Adeline.
So here is one.

I know she has this Ah-Lian face. But no, she's not one.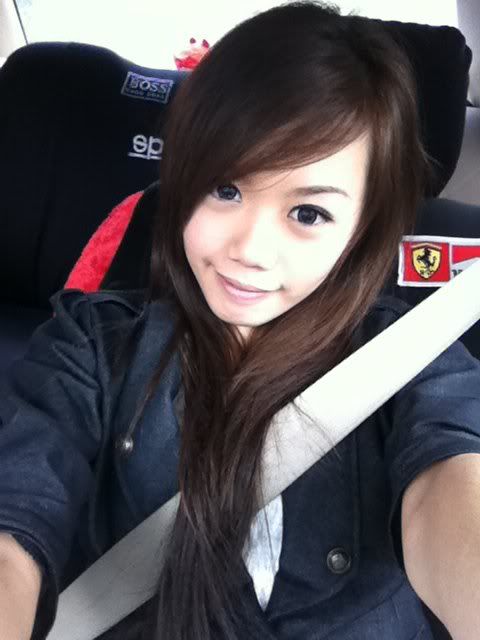 This girl here is really a dear.
We went out last month and she said "I want to buy the OSIM massage chair for dad. The one by Andy Lau"
She told me to keep it a secret because she wanted to give dad a surprise.
The big mouth me went to ask dad if he wants one because it is kind of expensive.
I heard that it is >$5k (I don't know actually. Didn't google for price)
Dad : "太孝顺, how to not feel the heartache when shes gone?"

She took this picture with Roven during his first night at our place.



She bought me him just 2 days after Raven's death because I was devastated.
and in her eyes "close to depression".
I couldn't eat or stop crying for days. It was terrible.
Roven came but it didn't change much because Raven was my all.
Little did she know that, When I lost Raven, I only lost a kg.
But when I lost Adel, I lost 4kg in two weeks while dad lost 6.

This sister is cute.
When Raven came, she tugged Raven into the bed with her and they slept till morning.
(It's been long, but I will never forget that)
When Roven came, she did the same thing again. Roven was very sickening then.
Wouldn't sleep on the floor. He had to sleep on my bed for weeks all because of Adel.
What bad habit he had developed from Adel's pampering.

Tears are flowing down as I typed this.
It is a reminder of how wonderful this sister is.
I didn't get to grow old with her. I can't see her wrinkled face and her future kids.
Will they grow up to look like her if she had kids?

All these will never happen again.

Temp perm for her hair. She wanted to perm her hair after her birthday this year.
Just so for CNY 2012. It's gone now.



She took part in her company dancing competition and had to dress up as a boy.



Company D&D. She looks older than me. Doesn't she? :)



And I would like to thank the kind soul who sent me Adel's New York TV commercial.
I actually laughed when I watched the TVC again because right after the commercial, she came back telling me "I was so nervous! My face was so stiff that they had to change the scene!" She even showed me what she meant by stiff. HAHAHAHA. My silly sister.



When it was first cast on the Television, I remembered Dad and me called her to laugh at her. I could tell that my dad was proud of her.

How are you doing now mei mei?
Your Ma Bao Ling (she calls me this in chinese. no respect!) miss you.