Thank you OMY.SG for the movie invite to Contraband.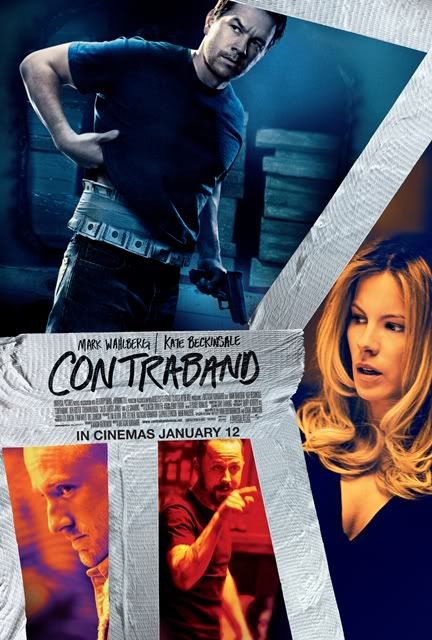 3 popcorn out of 5 popcorn.
Mark Wahlberg is back in the big screen again, "Contraband" is an action/thriller where Chris Farraday (Mark Wahlberg) shows how a genius runner of his time quiting the scene for his wife Kate(Kate Beckinsale) and son but was forced into saving the younger brother of Kate whom screwed up while running for a drug smuggler who threatened to kill his whole family. This move also showed us the love a family can have.
Contraband presents not only a nicely crafted remake, but also shows a wisely made criminal thriller, which is fun to watch. This film unveils the dark side of the modern smugglers life facing a lot of challenges with staying alive and keeping healthy those, who are dear to them. Sharing a part of illegal activities, this risk makes them use all their skills to stay on board.
More reviews click here
Synopsis
Mark Wahlberg leads the cast of Contraband, a fast-paced thriller about a man trying to stay out of a world he worked so hard to leave behind and the family he'll do anything to protect. Set in New Orleans, the film explores the cutthroat underground world of international smuggling—full of desperate criminals and corrupt officials, high-stakes and big payoffs—where loyalty rarely exists and death is one wrong turn away.
Chris Farraday (Wahlberg) long ago abandoned his life of crime, but after his brother-in-law, Andy (Caleb Landry Jones), botches a drug deal for his ruthless boss, Tim Briggs (Giovanni Ribisi), Chris is forced back into doing what he does best—running contraband—to settle Andy's debt. Chris is a legendary smuggler and quickly assembles a crew with the help of his best friend, Sebastian (Ben Foster), to head to Panama and return with millions in counterfeit bills.
Things quickly fall apart and with only hours to reach the cash, Chris must use his rusty skills to successfully navigate a treacherous criminal network of brutal drug lords, cops and hit men before his wife, Kate (Kate Beckinsale), and sons become their target.