Went for the gala premiere after work with Shine, Sora Ma and Jerry.


While waiting for our dinner before heading down for the gala.
With some other stars while waiting at the reception area.
(There were alot of fans waiting outside to take a picture with them. Guess I was lucky! Hehe)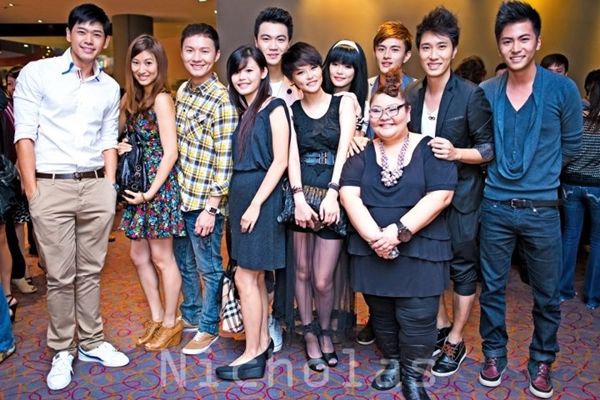 After the popular drama "On the fringe" by Li Nanxing, Ian Fang and Edwin Goh, the 3 stars worked together again to bring us another movie - Imperfect.
Jianhao, Zach and Square are best buddies who were forced to separate when Jianhao was sent to a Boys' Home after hurting someone in the course of protecting Zach. Jianhao's mother Huifang was devastated. After Jianhao's term at the Boys' Home, Huifang arranged for him to help out at her stall in Bugis.
With the encouragement of his girlfriend Shan Shan, Jianhao decided to retake his 'O' levels. However, Jianhao's attempts to have a fresh start are short-lived. He is forced to join the triad with Zach and Square when Alex, their arch-rival, who is also the son of triad leader, Guodong, make them his targets. During a gang fight, Jianhao ends up saving his leader, Zhihua, which leaves him in his debt. Jianhao will soon need Zhihua to repay him when Zach and Jianhao injure Alex severely, leaving him comatose, and Guodong is determined to avenge his son. They become fugitives overnight, and with Guodong and the police racing to capture the trio, will Zhihua come to the boys' rescue?
A mixture of touching and fighting scenes were shown in the movie which describes the reality well like what a dad would do to protect his son. And my childhood idol "Li Nanxing" is still as cool as he was in 璇天至尊. HAHA.
Overall ratings for this movie,
★
★
★1/2
Let's support local production ;)