-Edited on 6th Sept
BEHOLD GIRLS!


Do not scream cause I'll be introducing you to something sweet, something nice, something girls can't live without.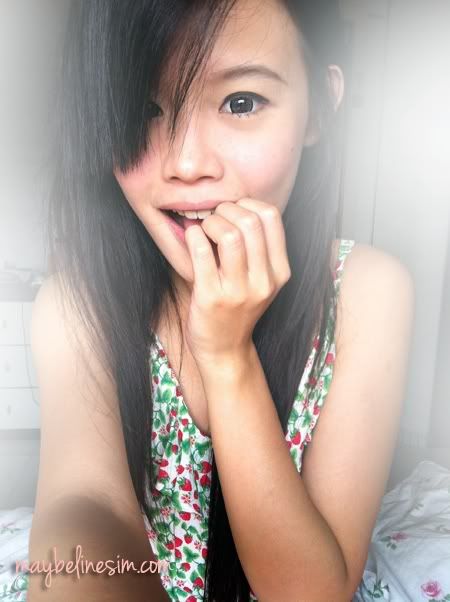 .
.
.
.
.
.
.
.
.
That's right. You got it. BAGS! Carlo Rino's bags!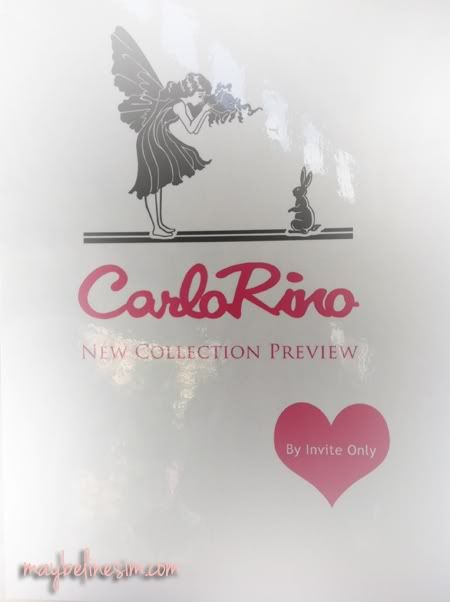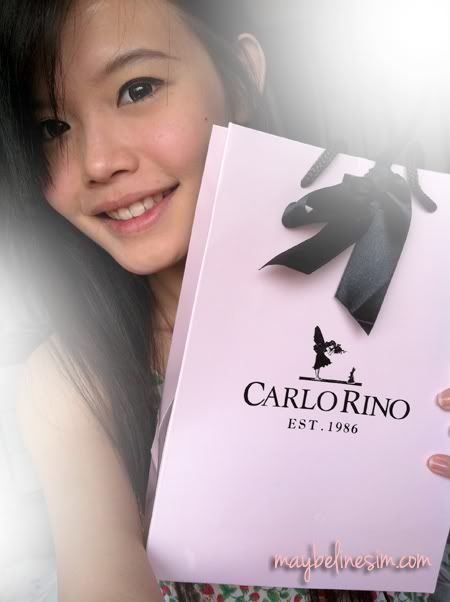 Established in 1986, Carlo Rino is a division of Bonia Group, the world's leading breand in making high fashion good and accessories from the finest materials.
And do you know? Carlo Rino is now available in 9 countries like Brunei, China, Hong Kong, Indonesia, Japan, Saudi Arabia, Singapore, Thailand and Vietnam!
If you think Carlo Rino is only for the more matured people, YOU ARE WRONG. My opinion of Carlo Rino totally changed after the whole session with the other invited bloggers and PR.
Look at the Yellow Pastel Wallet in my hand. Isn't it cute and Pretty? I was never a fan of yellow stuffs.
But *screams* this yellow pastel wallet from Carlo Rino sure looks cute on me!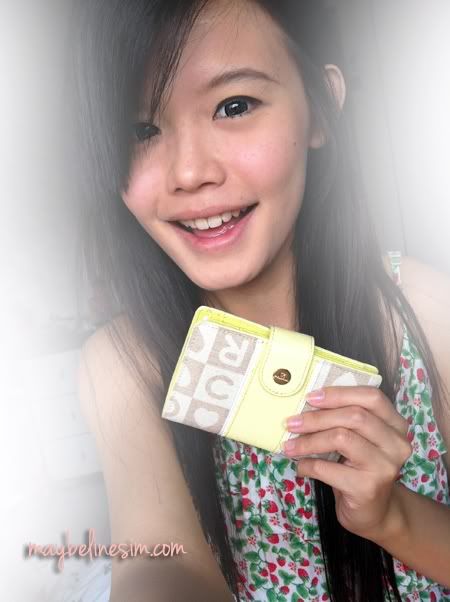 I am a sucker for bags. Trust me, a real sucker for them.




Everything about Carlo Rino is damn sweet. That includes that food they prepared for us that day!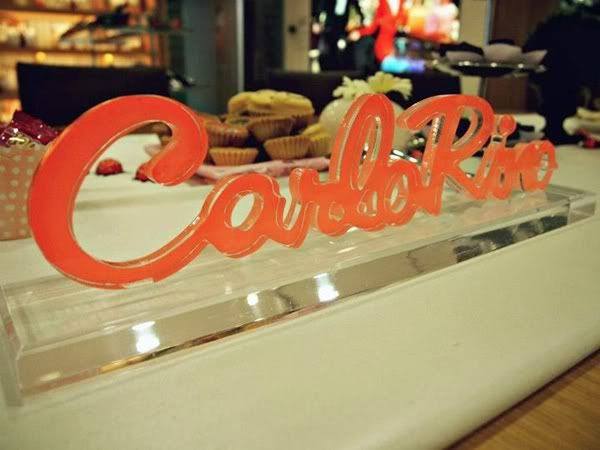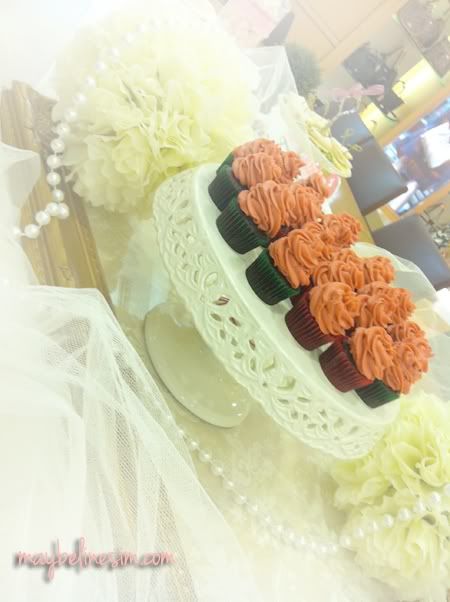 Nuff' said. You can judge yourself from the pictures later if what I said is true.
Key colours of the collection include dark forest green, bright neon pink and a new interpretation of the signature Carlo Rino monogram in jacquard.
Presenting you my favorite collection -
Vintage Fairy Tale Collection
(Available only after Oct/Nov 2012)
I honestly love the print and the combination of brown leather for the vintage feel.
The Fairy Tale bag collection is reintroduced in a whimsical vintage 80s-inspired style this season. Adorned with tangy brown leather straps and trim, and playfully matched with bright pink stitching, the fairy tale bags present new eclectic perspectives of romance for the new age girl.
There are a few designs but I am only showing some of my favorites.
The first picture is my favorite bag in the entire collection. I. Really. Wanna. Get. This!!!!!!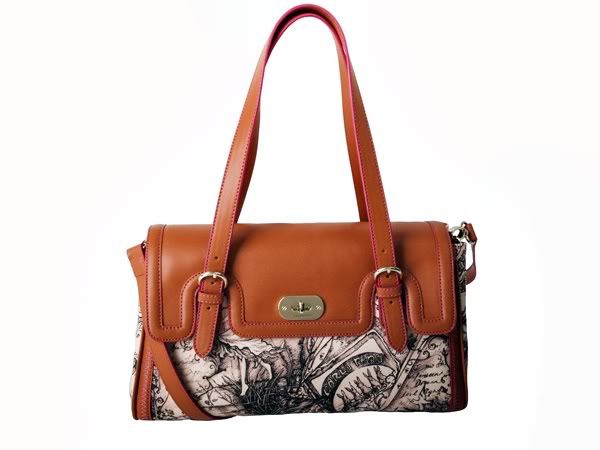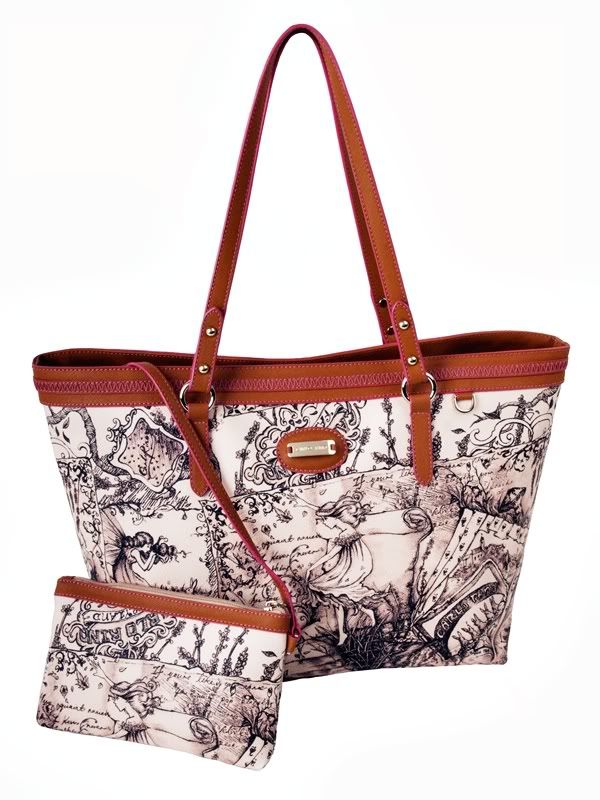 Other than bags, they also have small leather goods like wallets.
Next would be the
Midnight Dreamy Links Collection
which is only only available after Oct/Nov 2012.
The Dreamy Links collection is reintroduced this season with blue leather trims, and new deep grey pearls and necklace links that are designed to romantically interlace across the body of the bags. Juxtaposed with an over-sized rose-gold colored signature pad lock accessory, every design from this collection makes a chic yet bold fashion statement. The Midnight Dreamy Links collection encapsulates the eclectic, mysterious night of a modern day princess.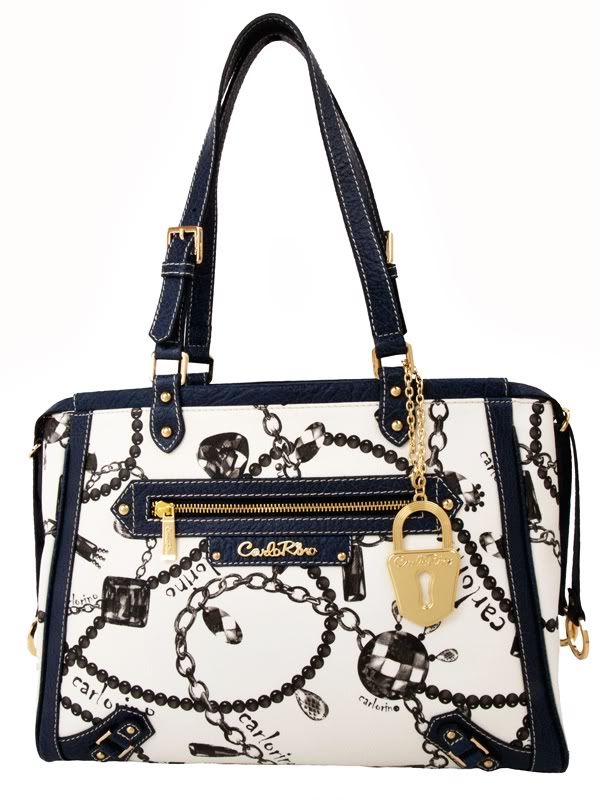 Tartan Tale Collection - Available after Nov/Dec 2012
A print of Scottish heritage, the tartan print was made popular by the British Royalty in the 19th century. Since then, it has become a statement staple in the world of fashion. This new fall winter Tartan Tale collection features the classic highland fabric that has worn fans over with its versatility and uniqueness. Block strips of red, green, pink and black of varying widths are interwoven to create a striking design for this collection. This is a must-have collection to flaunt this fall winter for the city fashionista this season.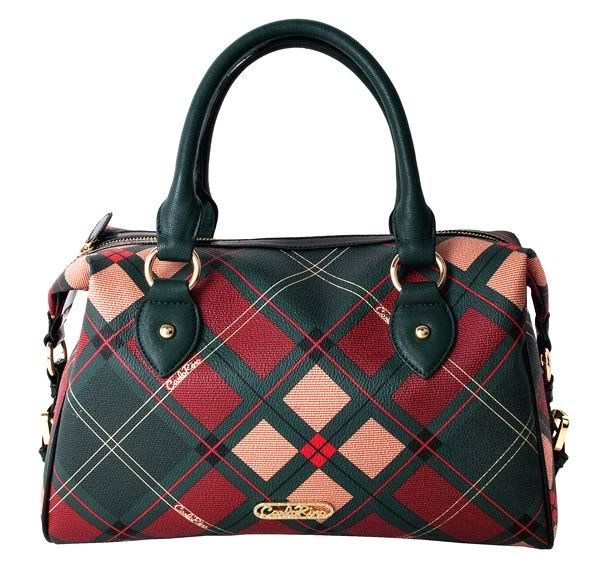 Tartan Tale small leather goods collection is also damn cute because they made used of gold round studs and/or a black leather ribbon to compliment the gold heart pendant.
Isn't the design such a darling? Way too sweet!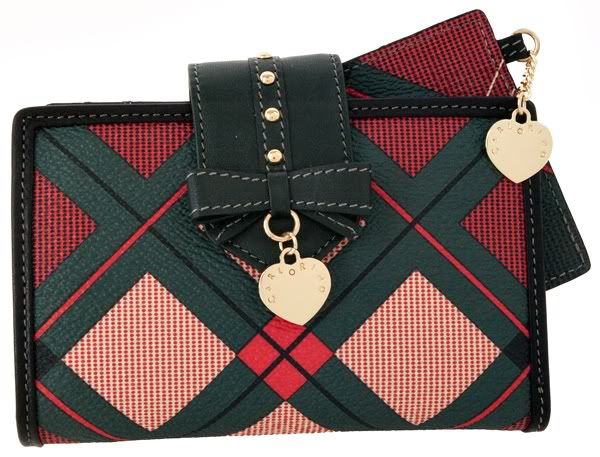 Engimatic Dainty Ditty Collection, which is also the first collection to be introduce in stores in Sept/Oct 2012.
The night sky turns dark, wrought with mystery and elegance, with stars that twinkle from high above. The ever-alluring mystic and elegance of the night gives much inspiration to the Enigmatic Dainty Ditty collection, which features the jacquard weave of the signature Carlo Rino monogram in gold. Offered in bright pink or forest green leather trims, this collection continues the legacy of the recognized Carlo Rino monogram, with a seasonal update that is bound to please.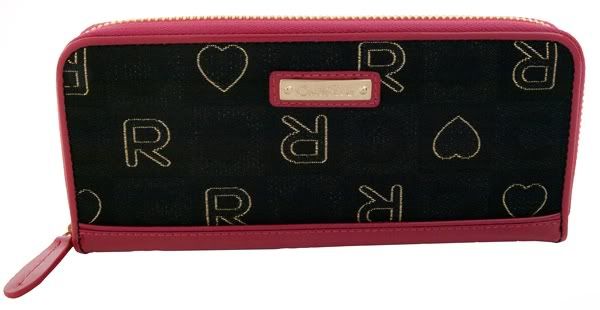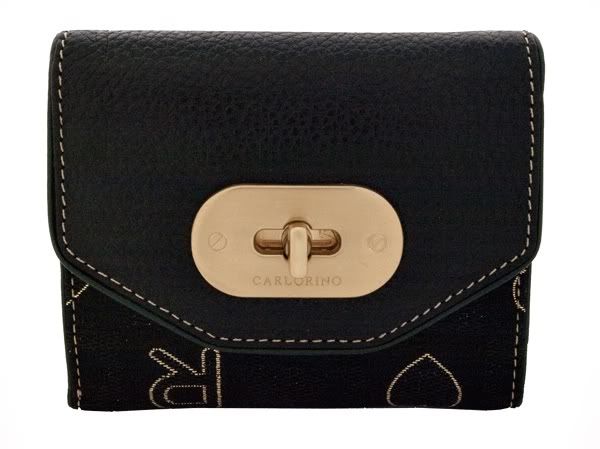 Told you Vintage Fairy is my favorite!!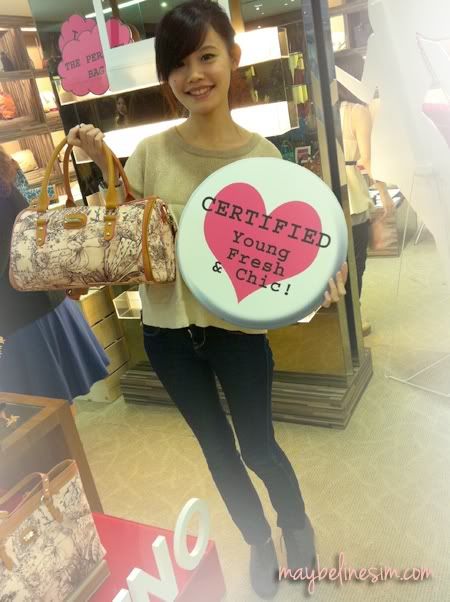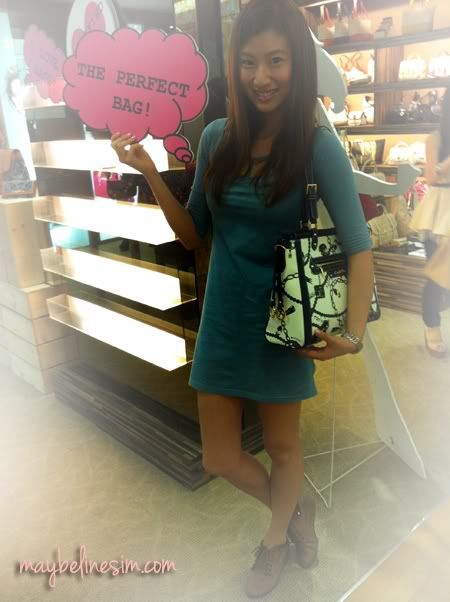 There were also some other bags which caught our attention!
The red one below is quite unique. You can flip it inside out. So it's a convertible bag!
When you're bored of red, you can flip the inside design out, or anything which go best with your outfit of the day.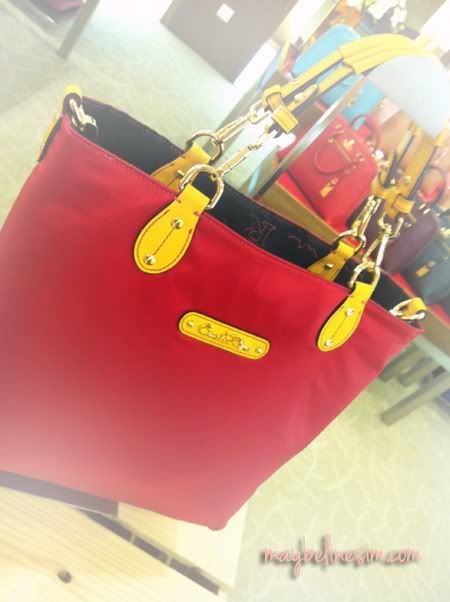 Patent mustard yellow. Sounds yummy~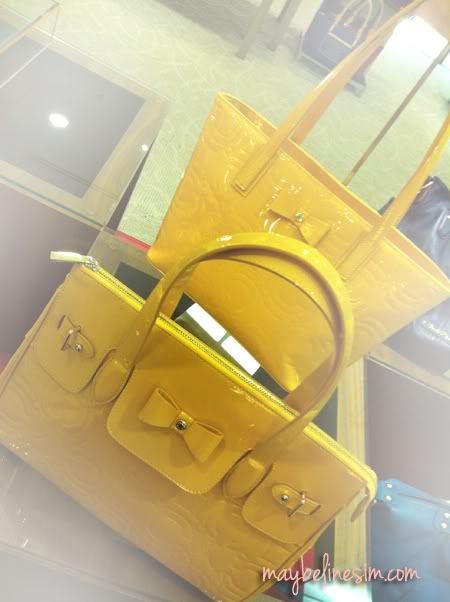 mmmmm. My perfect bag!!
Buddy and me!
Us with Fiona!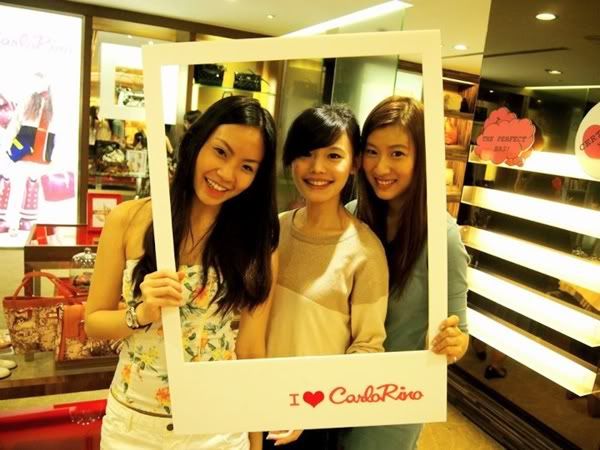 Look at the other bloggers. Everyone's busy picking their favorite!
And let me tell you, it sure is one difficult task.
O.O~~~~~ I want~~~~~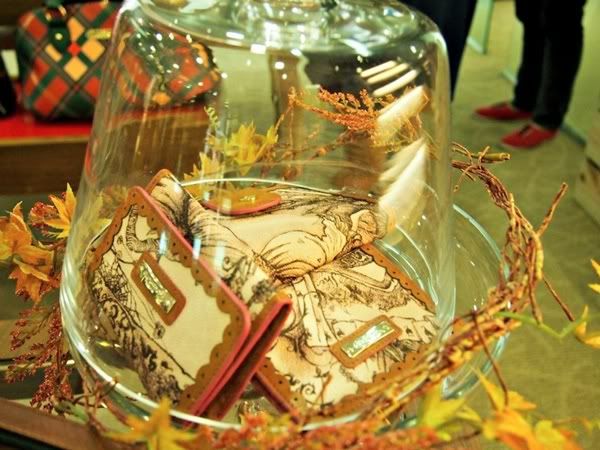 So Carlo Rino just turn me into me a fan of them! How about you?
Like them on their
Facebook page
or take part in their current Kit Kat X Carlo Rino contest to stand a chance to win yourself a limited Carlo Rino Watch!
Team of Carlo Rino and Q, thank you for the WONDERFUL hospitality!! Sending lots of kisses over~~**
Some pictures credit to Fiona.