Are you looking for a dress for the year end party or a special date? OCCASION might just have what you are looking for!

They carry ready to wear special occasion dresses suitable for Prom, D&D, Formal Dinner, ROM or bridesmaids with a wide variety of designs, colours, fabrics at affordable prices.

All short (normal) dresses are at $88 while the long dresses are at $138-$168.

Package price offers huge savings on dresses purchase and each dress can cost as low as $62.25.


Only applicable to $88 dresses.
4 Dresses at $278 (Each Dress at $69.50)
6 Dresses at $398 (Each Dress at $398)
8 Dresses at $498 (Each Dress at $62.25)
In my HONEST opinion after looking at and trying on their dresses,
I really feel that it would really be a good idea for people who are getting married and looking for bridesmaid dresses to visit Occasion because they are so comfortable and suitable for the occasion and most importantly, there are packages for them!
Anyway, you can buy yourself a dress anytime, not just for occasion.
Just pop by and grab one. Trust me, you will be so spoilt for choice!
I know words doesn't weigh much. So I took A LOT of pictures to prove my words. Read on ;)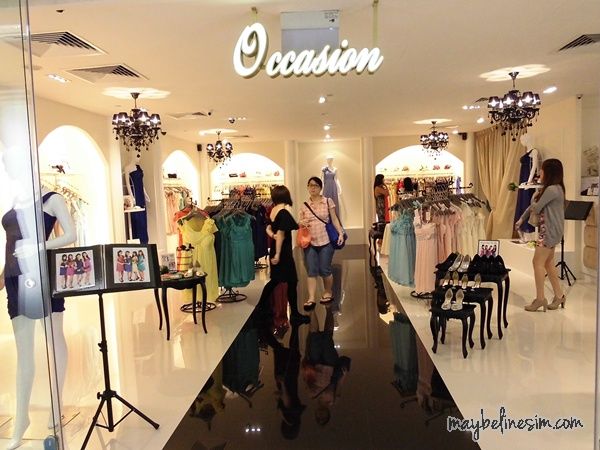 The invitation suit it's shop concept totally. So sweet!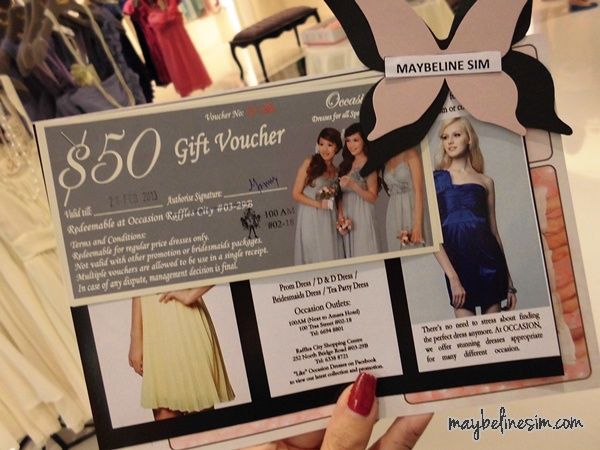 The colours of the wedding wristbands are nicely matched with the dresses in the shop.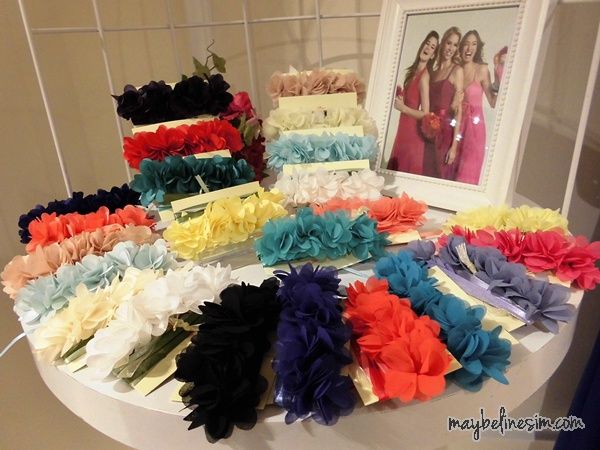 My favourite material for dresses is Chiffon.
Which also explains why most of the dresses I tried on (you see here) are Chiffon in light colours.
Look at the few pictures below. Are you amazed by the wide variety of dresses in these pictures?
:O
My favourite range because of their colours.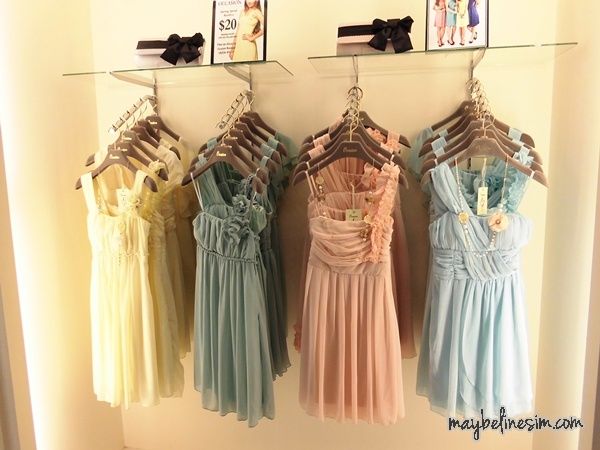 Some of their non chiffon dresses.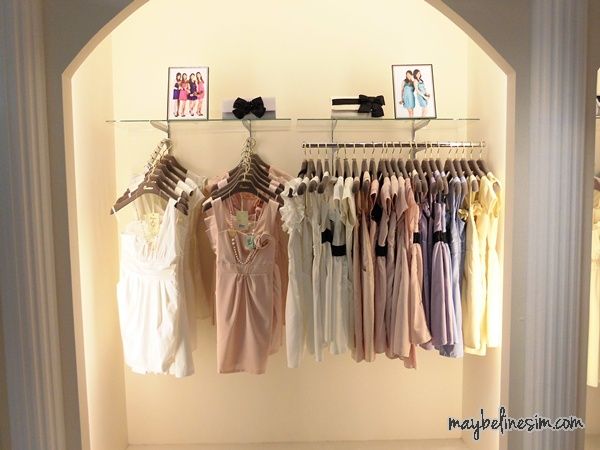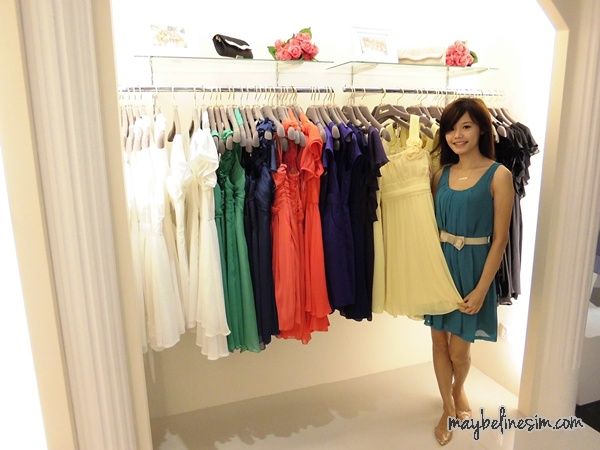 Long dresses are available at $138-$168.
Blogger's Sunday at Occasion.
Such sweet cupcakes.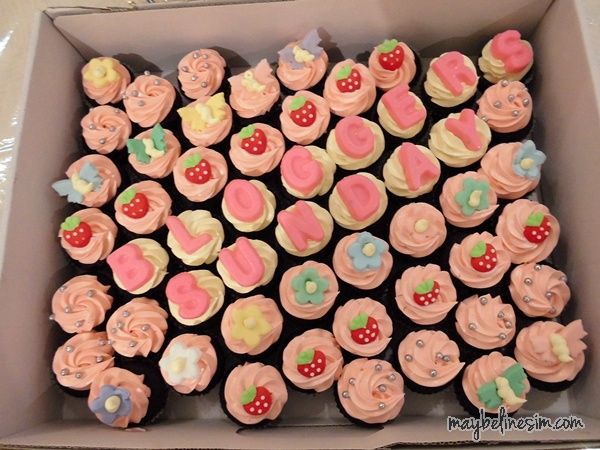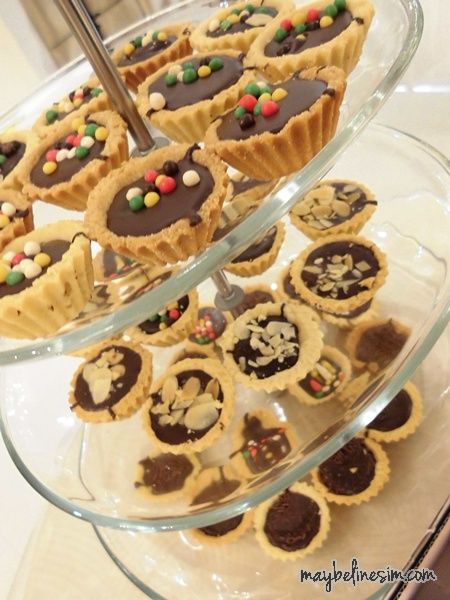 Picked more than 8 dresses to try out.
I really like the colour of this dress. Baby Blue.
My final choice was this colour. As for the design? Read on! :D
Really like this piece but they only had M-L left.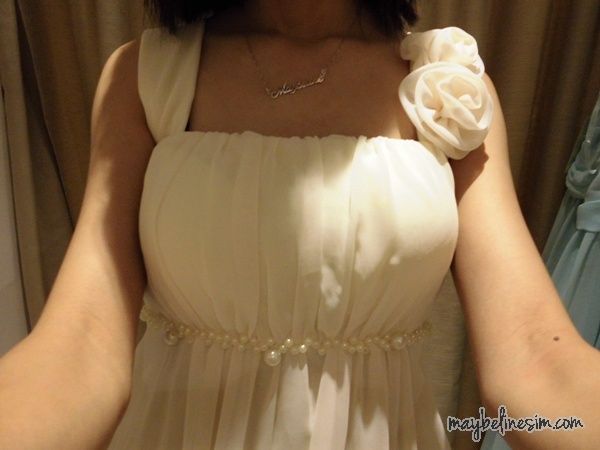 Bought RuiYing along and she also happily tried on the dresses with me.
(PS, we got the same dress in the end :D)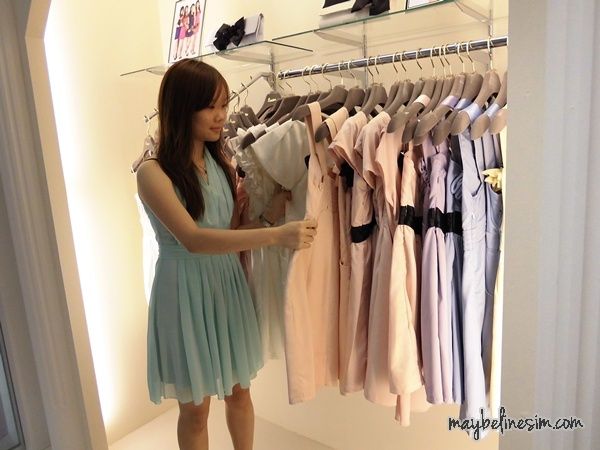 That's my choice! Simple but extremely sweet when worn.
I really like the pearl details below the chest area.
Available in baby pink and mint green as well.
(Colour is not true to picture due to lighting)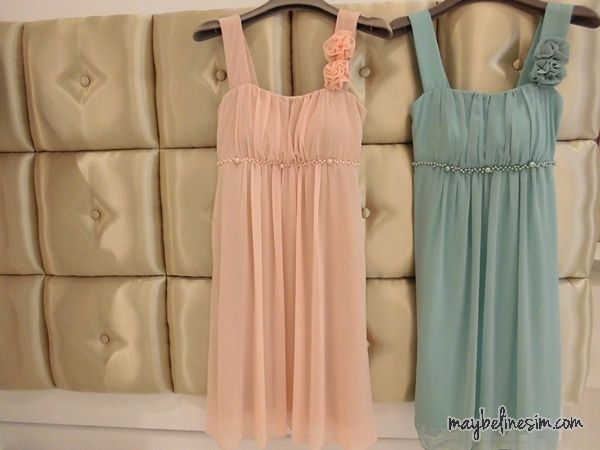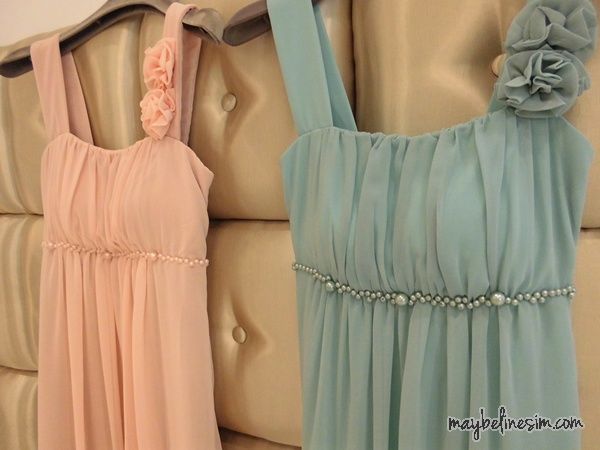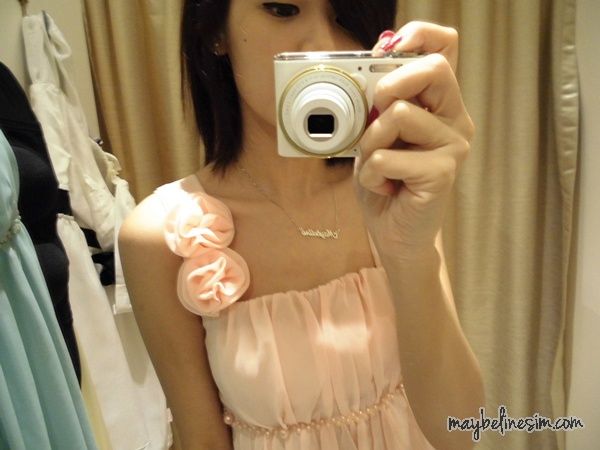 Yes, I tired on all the colours before deciding on Baby Blue. Actually I like Cream and Mint Green too.
(Cream is not seen in the picture below)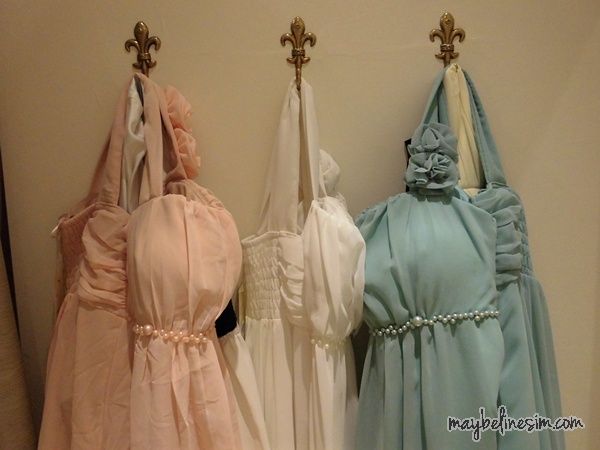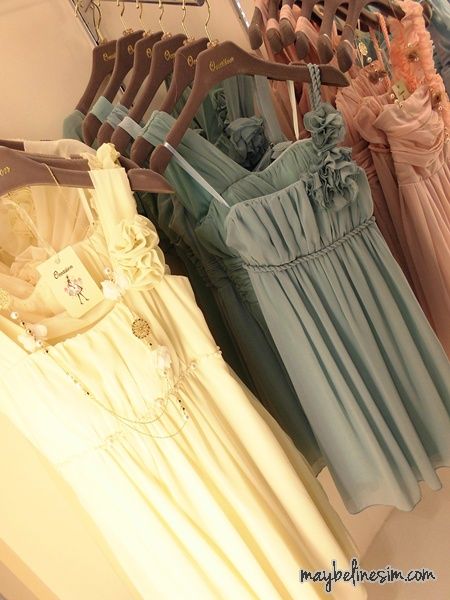 How to pick when all the colours and designs are so lovely?!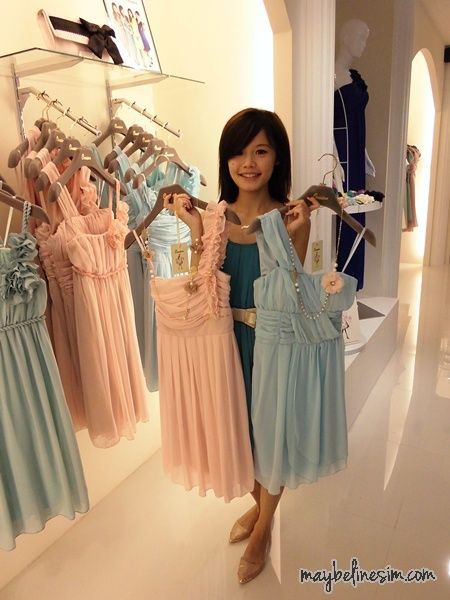 I kind of like this too. Hehe.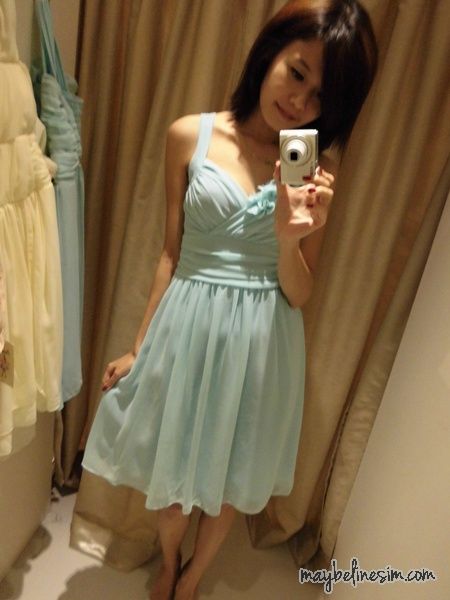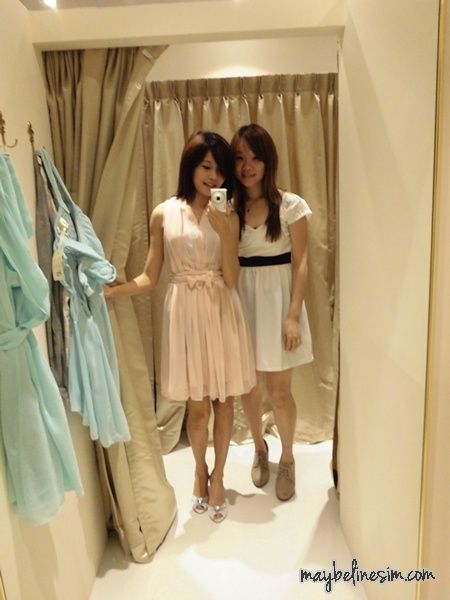 Still gave this dress a try even though they only had M-L left.
You can tell it's too big for me eh? But this is really a good choice for a bridesmaid dress.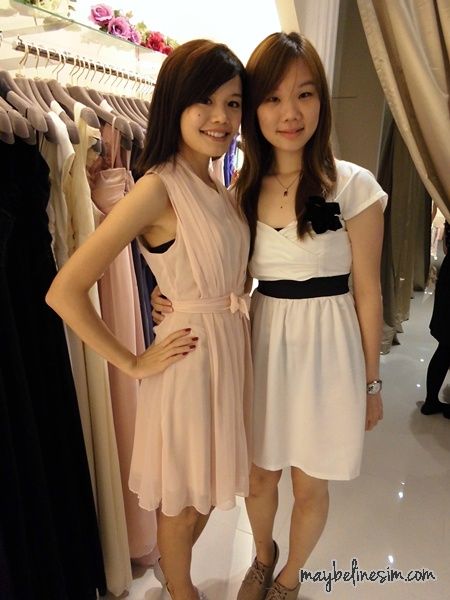 Flipping through the long dresses. Really classy. For Prom or ROM?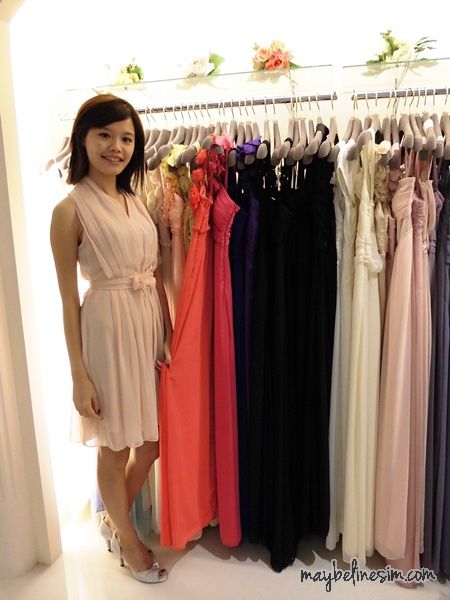 With Joyce, My Fat Pocket Resident Blogger.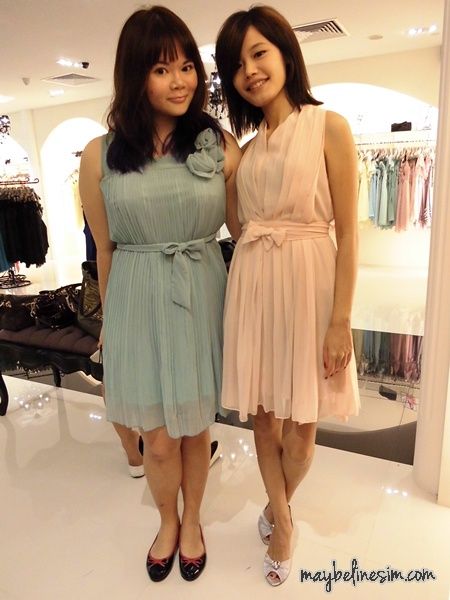 Cannot bring home. So camwhore abit first. Hahaha.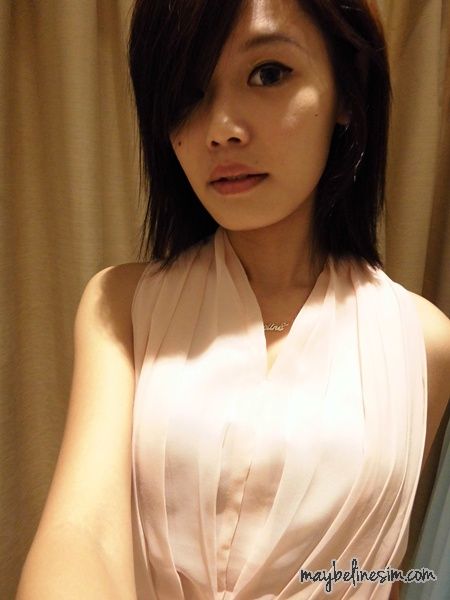 Favourite dress in Cream!
The lining is so good that you can't even see my black undergarments inside.
I always have this problem when it comes to buying white/cream dresses.
In White this time round. White also nice hor?? I WANT.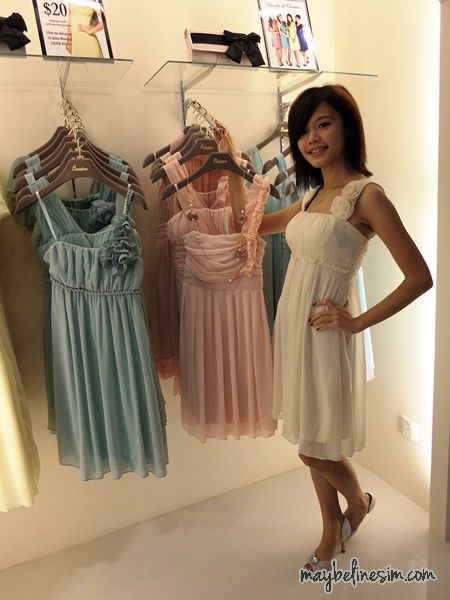 This is yellow. But not really visible under the lighting.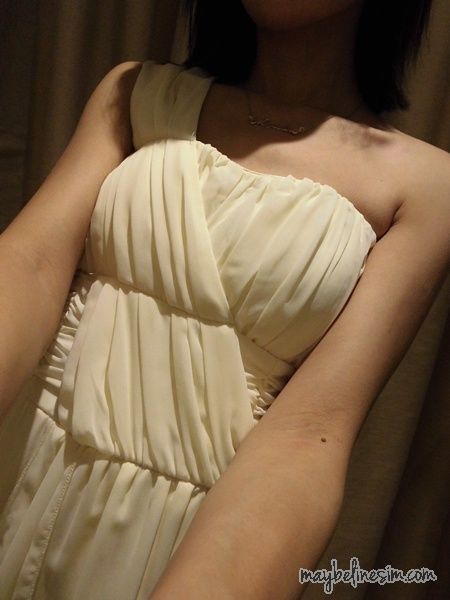 Some of their dresses (this, for example), comes with padding, so you do not have a wear a bra for it.
Yay! No revealing straps or cups. And comfortable level + + +
Admit it! Braless is cosy + + !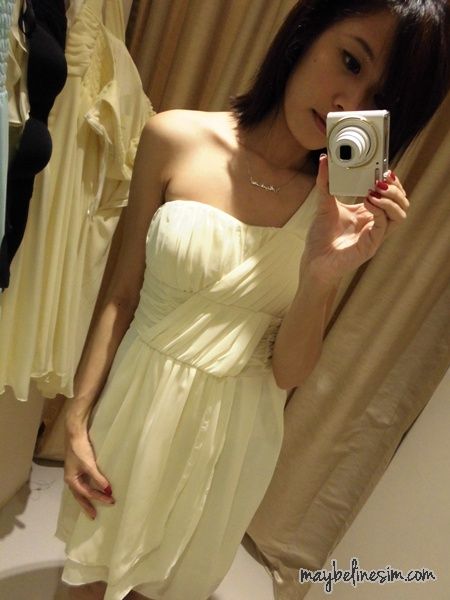 Me in Mint Green and RuiYing in Baby Yellow.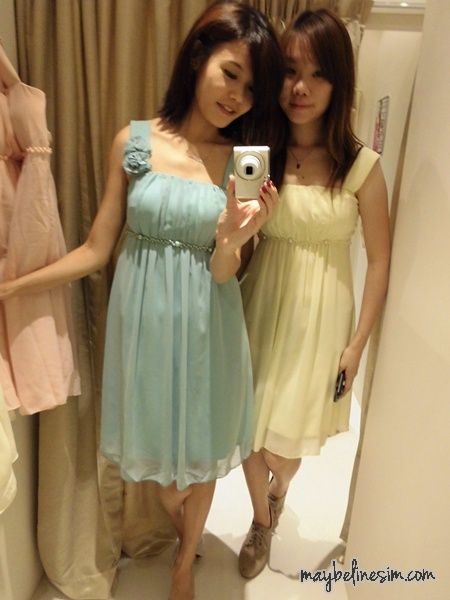 Baby pink. It was a brand new piece so there it was kinda crumpled. Still pretty right? :D
Seen enough of the pictures? You can feel or try it on yourself at:
100AM Tras Street #02-18
(Next to Amara Hotel)
Tel: 66948801
or
252 North Bridge Road #03-29B
Raffles City Shopping Centre
Tel: 63388721
Thank you Andrea for the invitation to this girly affair.
I can't wait to wear my new dress out!
Pictures are all taken VIA Casio EX-JE10 :)