This is definitely one of the BEST events so far and I am very enthusiastic to share with you guys!

On 6th April 2013, I boarded Joyville (the official Cadbury bus) to an extremely marvellous place.
Not just the whole exterior, the whole interior was extremely cute too.

You can also charter Cadbury's Joyville bus by simply spending S$20 on Cadbury.
For more information, please visit joyrider.sg or give +65 62328515 a ring!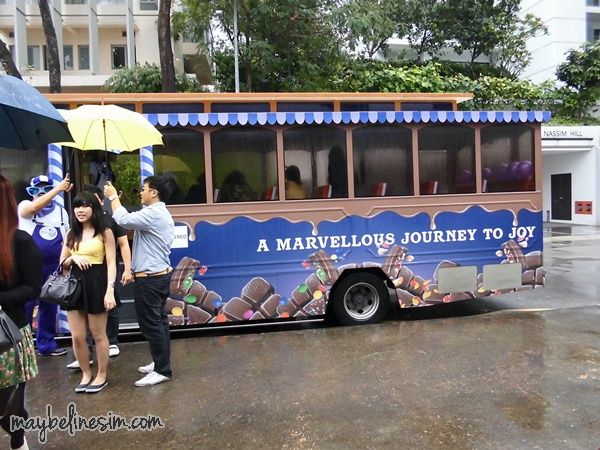 I think it was specially designed in such a way where you can no longer feel blues in the bus.
Chocolate brings smile and Cadbury brings joy! When we went up, we could see cute and colorful props on the seats. On top of that, we were given the "boarding ticket". HOW CUTEEE!!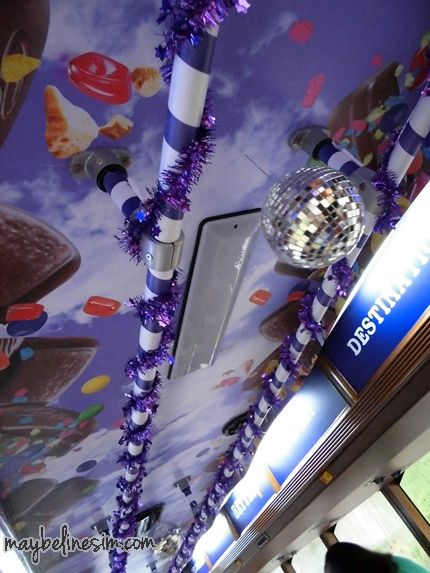 We didn't had to wait for the crews to tell us to put on the props. We automatically put it on and starting snapping away.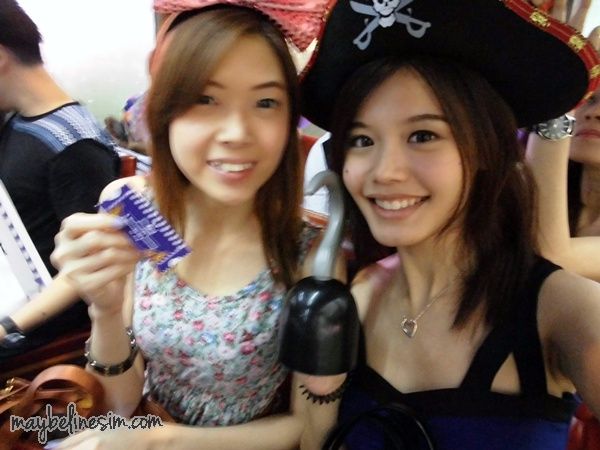 The purple ticket Meryl was holding in her hand was the "boarding pass".

On the way to the venue, we also participated in the best tweet competition where 3 best tweets would be selected and rewarded with the hashtags #joyridersg #cadburysg.

A similar picture from below was used with the caption:

"Heading to somewhere marvellous with Joyville! #cadburysg #joyridersg http://instagram.com/p/XwT3TojEJu/"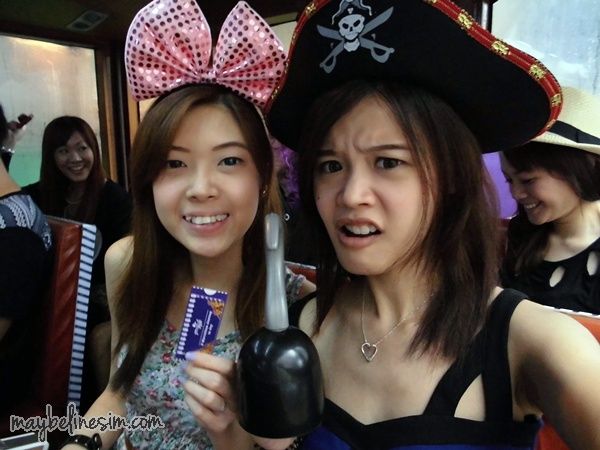 Miss Fruit Top was giving out chocolates to all the blogger onboard and we were screaming like little kids. How carefree. I feel like a kid all over and kids are happy people.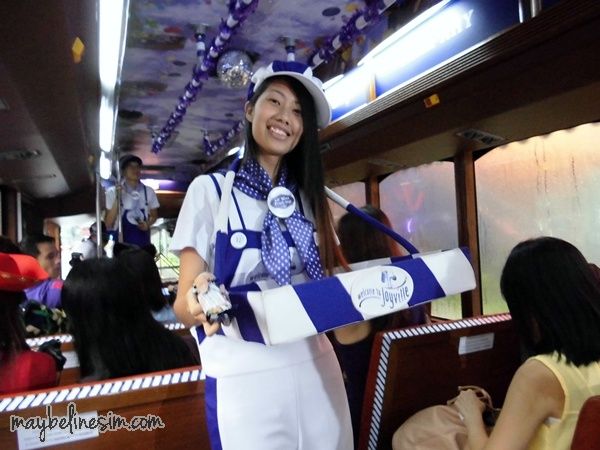 "Now, hand over all your chocolates. Make me a happy pirate. I can be the pirate of Jelly Beans for your Marvellous Creations."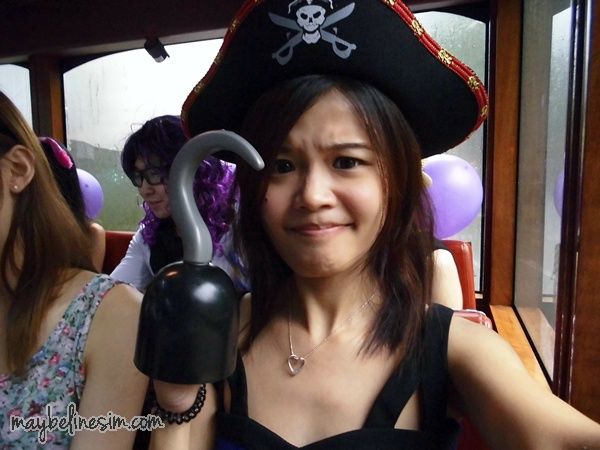 Reached our destination and more fun begins! The whole place was booked for the event.

Local music band "After hours" were there to play good music too. And not forgetting the marvellous magicians too!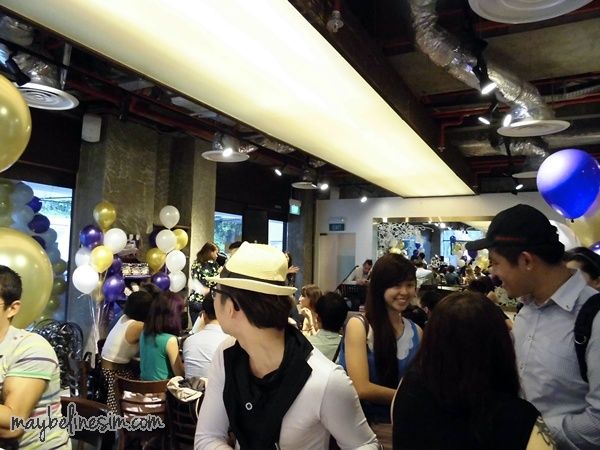 Still very joyful.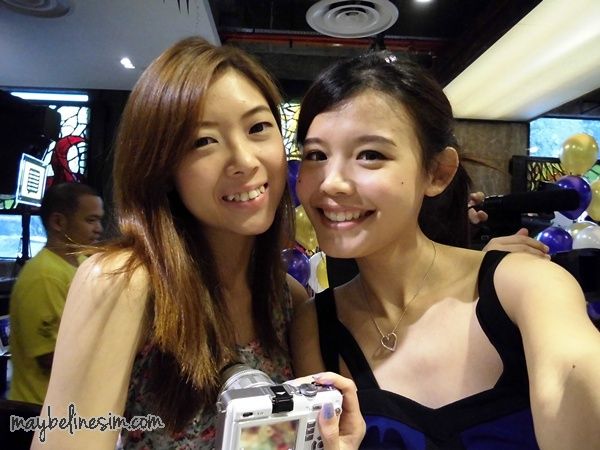 What attracted me first was this blind tasting booth. I DAMN SMART HOR I TELL YOU.
Being a Cadbury fan, I can differentiate them VERY well. Hehehe. I didn't get any wrong and I was so proud of myself I tell you.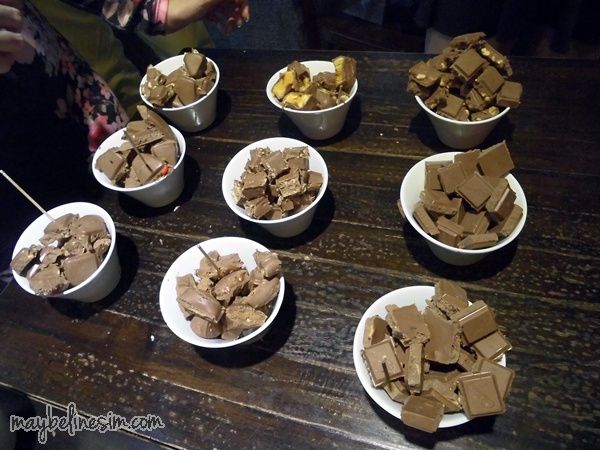 The prize was an EXTREMELY *SCREAMS* CUTE Cadbury 2GB thumbdrive.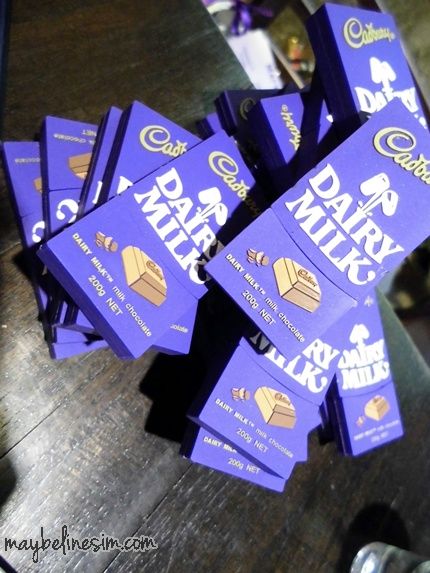 That's Ying Jie tasting the chocolates. We have to get all 3 chocolates right in order to win the thumbdrive.




My turn. Peanuts, peanuts peanuts. I am not called a Cadbury Fan for nothing!! I won a thumbdrive for myself and people started asking me for help because they wanted the thumbdrive as well but couldn't get it right. I won too many times to the extent that the lady had to ask me to eat 3 flavours at 1 go (mouth). So sad! I could only win 1 for myself. The rest were for the other bloggers there.

SO FUN!!!! WHY I SO PROUD AND THICK SKIN! Hahahaha.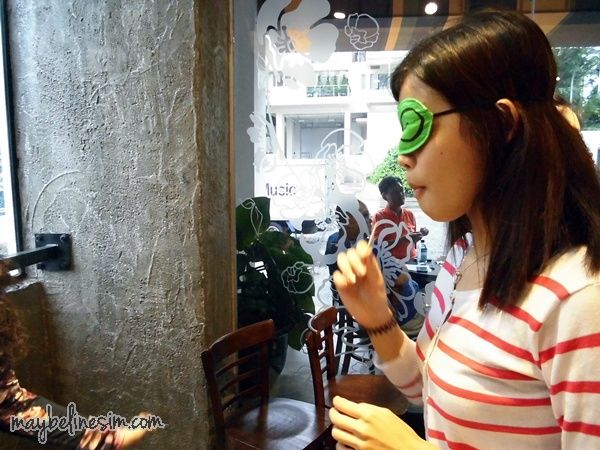 Indeed. A marvellous journey to joy. The chocolates there were free flow. We were told to grab whatever we want home. Of course, I brought so many home that I was so scared that my bag would snap. Hahahaha. I really really like them. I always buy them from NTUC whenever I visit them.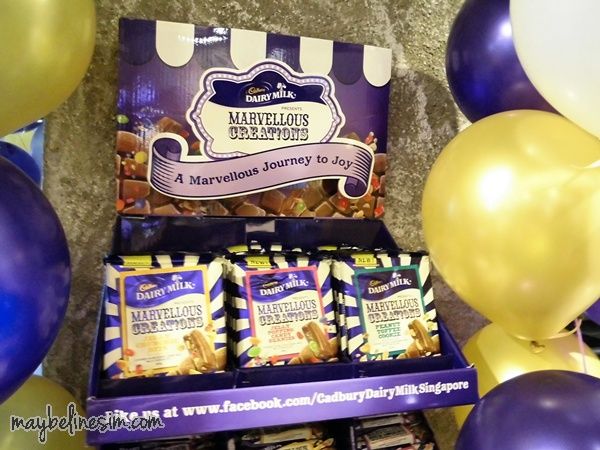 I also won more chocolates for one of the best tweets! YAY~~~~~

So the Marvellous Creations comes in 3 different flavors.

Yellow: Jelly Crunchy Bits
Pink: Jelly Popping Candy Beanies
Green: Peanut Toffee Cookie

All come them come in small bars too except the Peanut Toffee Cookie.

My favourite is Jelly Popping Candy Beanies because I love jelly beans and the popping candy makes it fun to chew!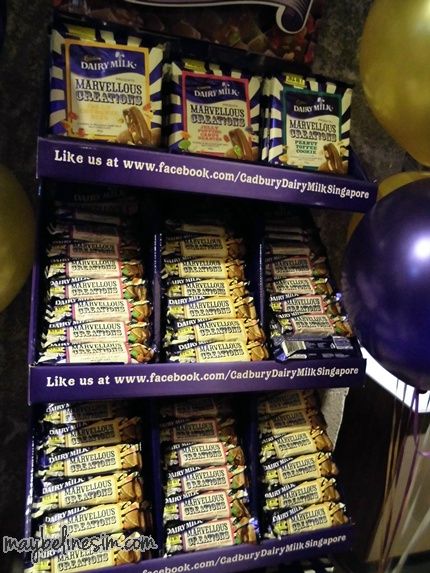 Yay! Meet the 3 Marvellous ambassadors. Brad Lau, Beatrice Tan and Maureen Ow!!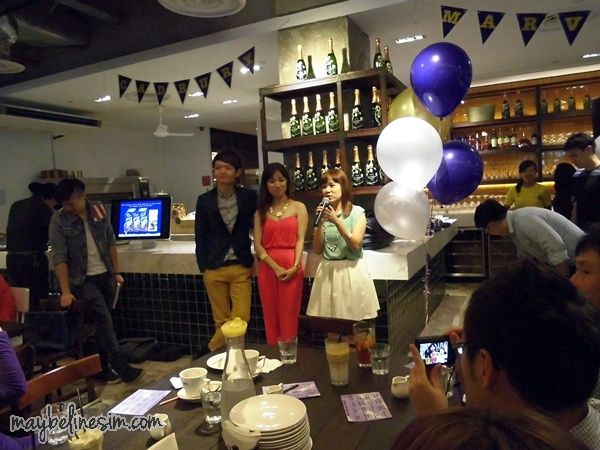 They had a pinata to hit each with their respective flavors. Brad and Beatrice managed to break it within 2-3 hits but Maureen needed more hits. LOL so cute!!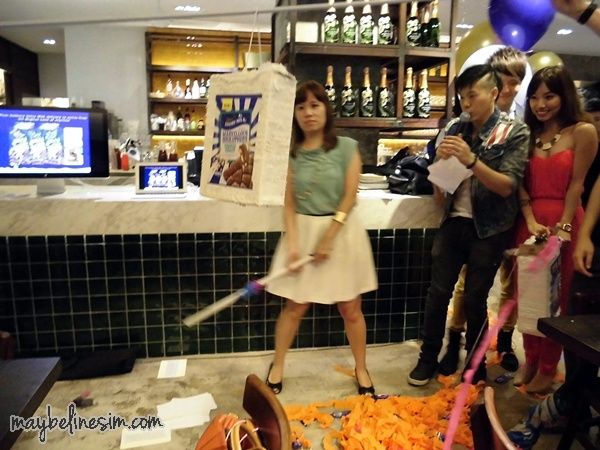 Almost there~~~~~~~~~ Eat more chocolates!!!!

Each box had a hidden chocolate bar with a sticker. And that's the golden ticket to the night safari.

Total 3 boxes and YAY!!!! I managed to find the sticker after quite some time of digging!!!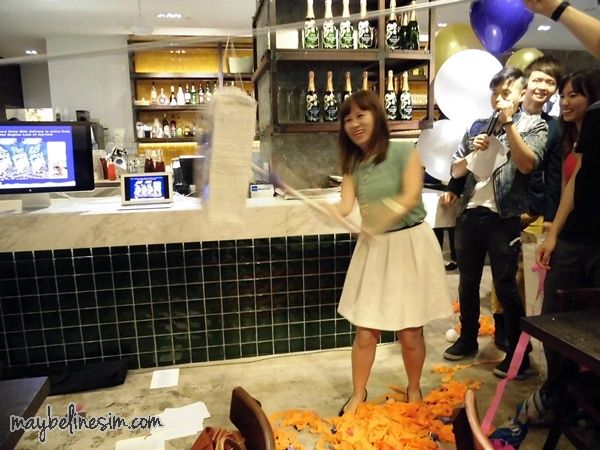 It was quite a free and easy event so everyone was busying acting cute, being happy, trying out chocolates AND TAKING PHOTOS.

So cute!! But I was photobombed. Hahahaha.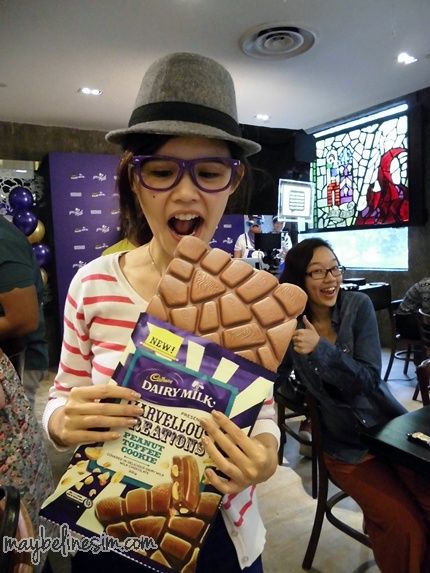 We had a really fun time taking instant prints at the Photo Booth! And I had a lot of stupid faces. LOL. The most epic one is below. HAHAHAHA. I can't believe that this face is going to be found in Facebook :(

I was too happy and lively that I lost myself. I got drunk in chocolates. I came up with caption for each photo.

"Oh my god?! Really? Cadbury? GIVE ME, GIVE ME MORE, GIVE ME MORE!"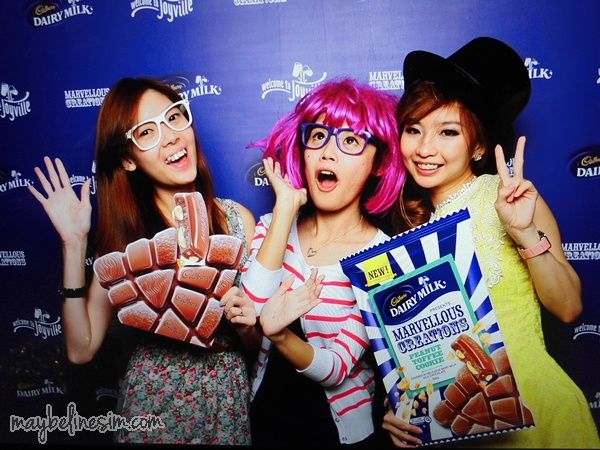 "oh so shyyyy. I tried to sing Britney's song"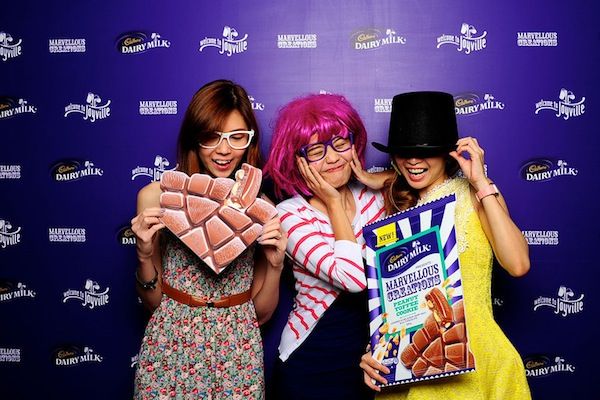 "How about the chocolates singing "I believe I can fly~~~ right before I get digesteddd~~"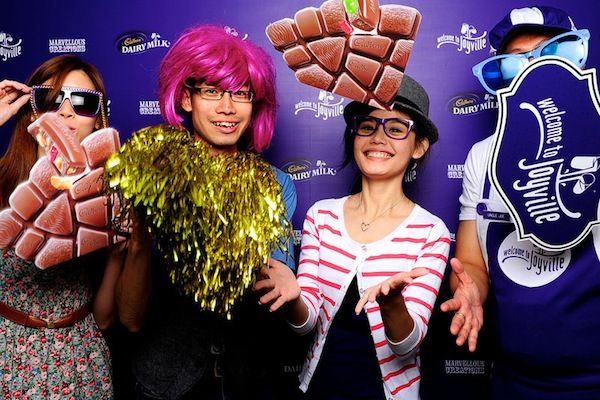 "If I can't eat it, I'll still lick it like a chocolate hotcream"




"But just by licking is not enough!!!"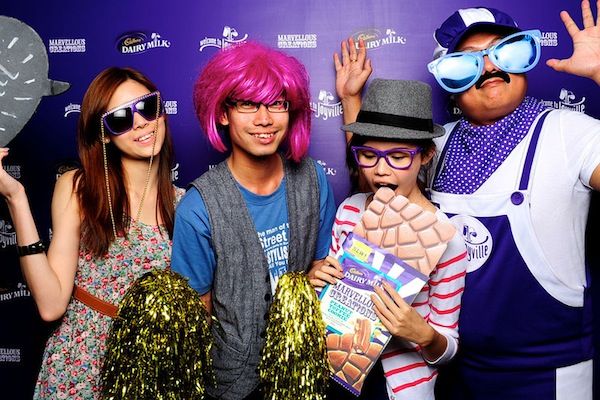 "Nevertheless, chocolate has this special power to make one happy, so let's spread the joy shall we?"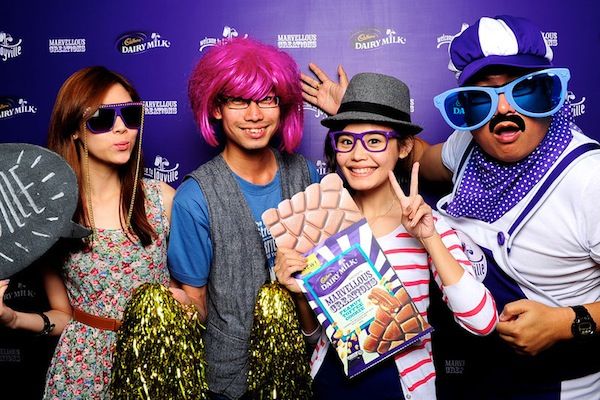 "Okay lah, come I give you a hug and more cadbury later."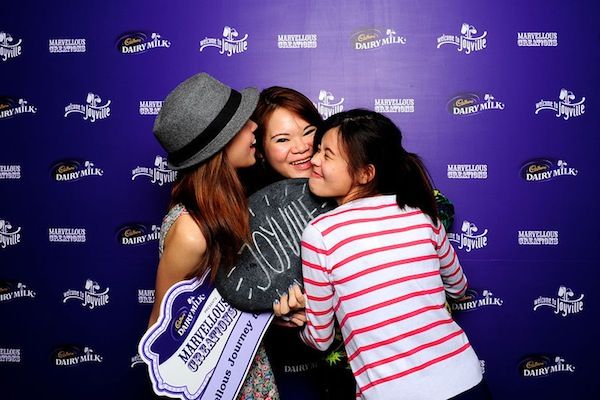 Time to stop fooling around and act all decent again LOL.

Here's a picture with the pretty Beatrice!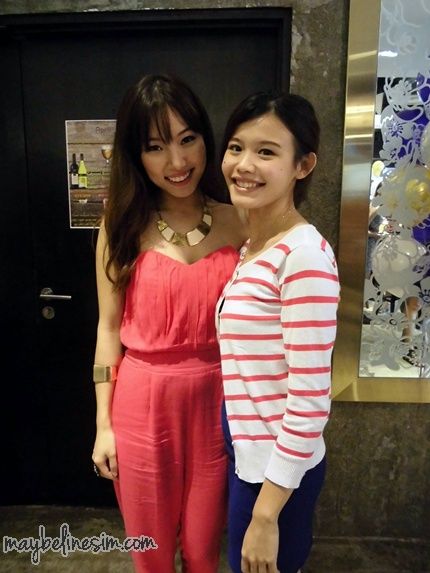 With Uncle Joy and Brad!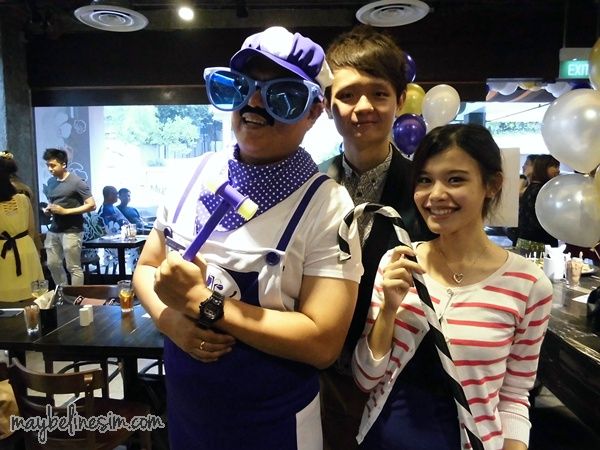 Mehmeh, feeling all happy like a little girl.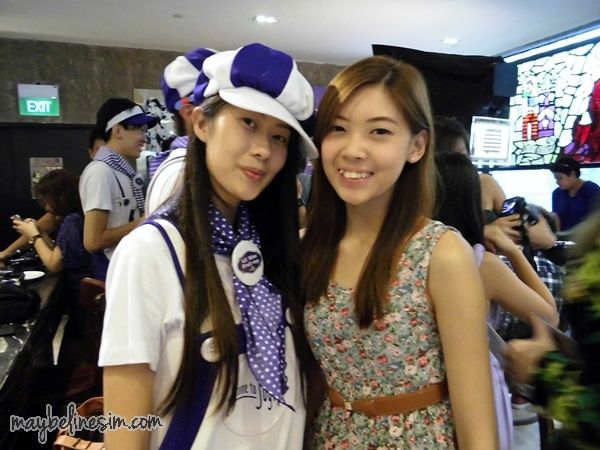 It was time to bid goodbye (AAAWWWW) but I really like the idea of taking the joyville again :D

Look at the smiles on our faces, it just goes to show how successful the whole event was!!




I am sure that you will love Joyville as much as me too!



For more information, please visit:

Facebook: https://www.facebook.com/CadburyDairyMilkSingapore
Twitter: https://twitter.com/cadburySG
Instagram: http://instagram.com/CadburySG

Be sure to follow them for a marvellous journey toooo!!!