Deep Moist is the #1 Lip balm in Japan! It moisturizes lips with Hyaluronic Acid, Avocado Oil and Jojoba Oil and repairs dry lips with shea butter and vitamin E. It is not your typical round-shaped balm but an oval stick.

I don't really get chapped lips but I do feel slight pain on the lips when I am extremely heaty or severely lack of sleep.




Source: Keep-healthy.com
The success of Deep Moist is due to 2 main factors, its premium hydrating ingredients at value pricing, and its elegant, ergonomic packaging design.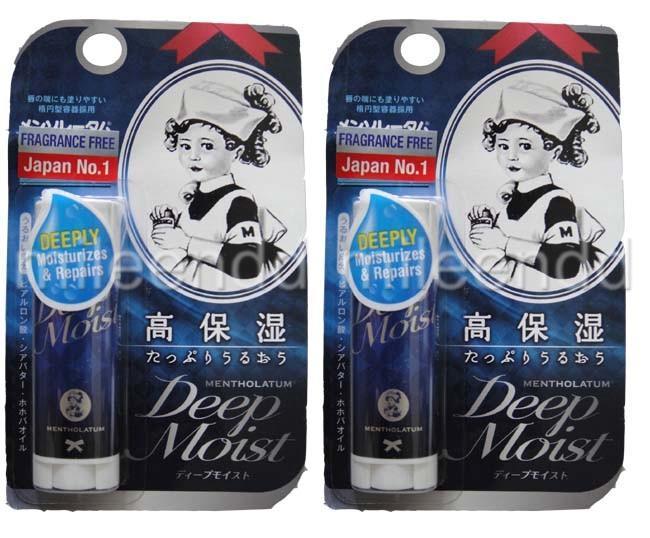 1. The key moisturizing ingredients in Deep Moist lip balms are:
Hyaluronic Acid - a premium ingredient that forms a smooth, moisture locking shield for softer, smoother lips. It can hold 1000X its weight in water, or 6 litres of water with just 1g.
Shea Butter - heals the skin, and gives a soft, pleasant texture to the lip balm.
Jojoba Oil - gives pro-longed, whole day hydration to the lips.
2.
The Deep Moist lip balm comes in an
oval-shaped container design
that fits the corner of the mouth well and makes it easy to apply with a single swipe.
"A Japanese consumer commented, "This oval-shaped design fits the corner of my mouth so well that the Deep Moist lip balm can be applied easily without affecting the foundation near my mouth."
As you can see from the packaging, it's fragrance free.
And I always link Fragrance Free with Lesser Chemicals.
So I guess it's a safer product and will not cause allergy :)

Source: Teluguone