Attended a Tsubaki's private event and now, I am here to inform you that the reformulated Tsubaki 2013 range is now available at all Watsons stores!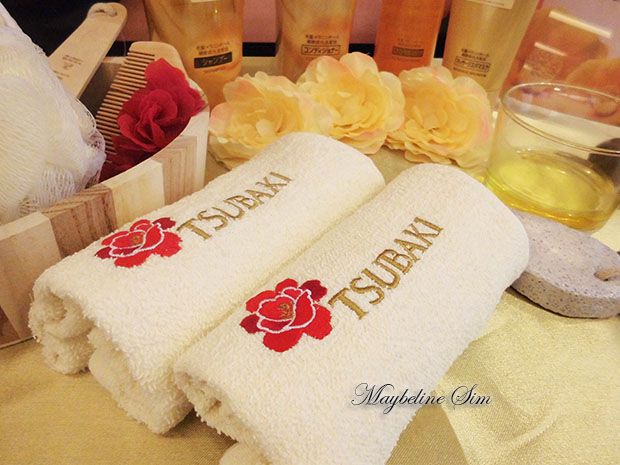 Tsubaki was first launched in 2006 and has been leading the hair care market in Japan with a record total number of shipments of over 270 million units!

The new range contains Arginine which repairs melanin holes on our hair to allow light rays to penetrate the hair shaft and to be reflected beautifully, resulting in a lustrous, dullness-free shine. The melanin holes can lead to loss of shine and luster!

It also contains a UV protective ingredient to cut daily UV radiation which cause hair melanin and protect to be lost, as well as protecting the hair from UV damage. Now you know that not only your face needs to be protected!

Selected Camellia Oil was also added in to provide the hair with extra shine and elasticity.

There are 3 ranges available and each range comes with their own treatment and hair mask instead of just the shampoo and conditioner.

1. Shining range for Shine and Moisture

All 3 of them smelled really good but this range has the best smell! It has a glamorous scent with a blend of flowers and fruits. Smooth and creamy texture while shampooing.

Available in 2 sizes: 220ml ($8.90) and 550ml ($17.90).

The conditioner as compared to the old, makes the hair smoother after rinsing and does not have a greasy feel.




2. Damage Care for Intensive Repair

Its ingredients are able to penetrate inside the hair core and brings about silky manageable hair to the ends. Creates greater volume and fineness of lather give smoothness in shampooing. If you talk about scent, it has a combination of floral and green notes.

Camellia Repair Butter was also added in for hair repair and moisture while Tsubaki Amino replenishes the ingredients lost due to damage.

Available in 2 sizes: 220ml ($9.90) and 550ml ($18.90).

Likewise, the conditioner as compared to the old, makes the hair smoother after rinsing.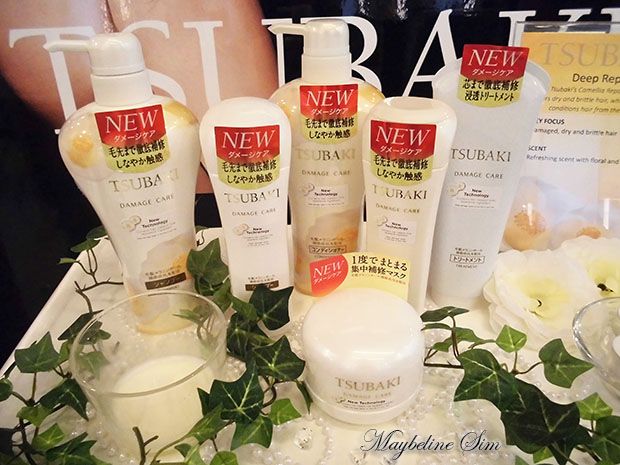 3. Head Spa for Scalp Care

About 70% of women, irregardless of age have scalp problems and we are usually unaware of it.

Camellia Flower Essence can prevent scalp inflammation which may cause newly grown hair to lack firmness and elasticity and promotes scalp health for the growth.

The new relaxing natural aroma with floral notes helps to soothe and unwind.

To wash away the impurities by refreshing the scalp through cleansing the pores, and replenish the hair with active ingredients and moisturizers.

The Essential oil blend moisturizes the scalp, making it more supple and promoting scalp health. Contains sage, ginger, rosehip, thyme, sorbitol.

It was testing and this shampoo can create greater hair volume.

The shampoo is only available in 500ml at $19.90.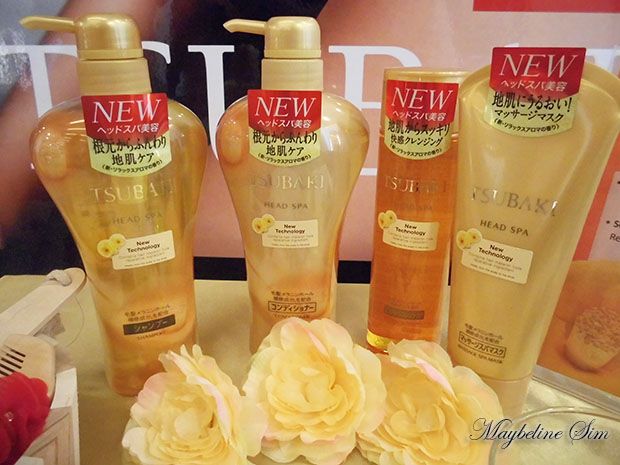 As I had said, it is already available in Watsons! :)

Show your support on their Facebook page at : https://www.facebook.com/TsubakiSG!