I am currently still using Especially Escada which I had previously reviewed it in June.
Click here to read the review.

This time round, they had kindly sent me the new intense Eau de Parfum - Especially Escada Elixir.

The difference between the two is the intensity. I had always preferred the intense version, the same for other perfumes as well.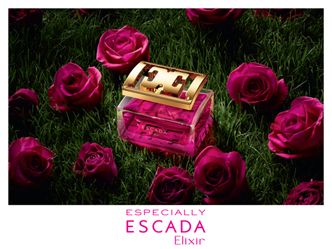 This rose-based fragrance is an exciting new addition to the Especially ESCADA collection.
The design of the bottle is very much similiar to Especially Escada with an iconic double EE logo, originally designed by ESCADA founder. The lid features an especially opulent luster thanks to real gold in its finish making.
Well, we really have to agree that gold makes things look even classier than ever.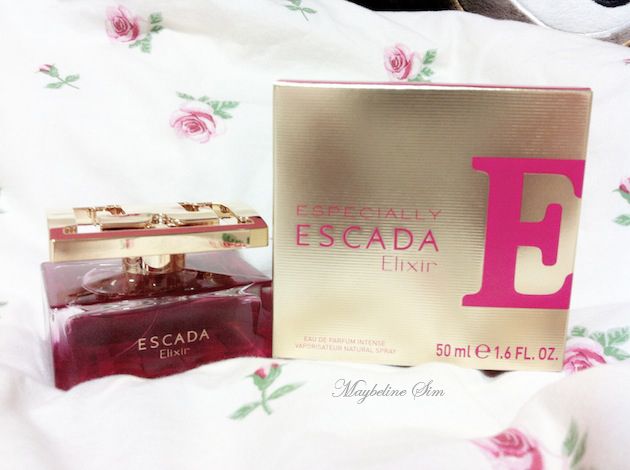 Eastern roses from Turkey was added as an element of mystery to Elixir. Rich natural rose extract is caressed with oriental facets to add depth, color and density. The unique fusion of ingredients also creates a fragrance that is elegantly joyful, while sensual and magical - with an intensity that lasts longer.

I work 8 hours a day and could still smell the scent of the perfume on me after work. It keeps me feeling fresh and nice. When I smell nice, my mood also gets lifted up somehow even if its after a long tiring day.

The first impression of my first spray - Sweet. It gave me the feel of how summer should be like with a tinge of vanilla. As the scent starts to spread, the scent of Turkish rose starts to grows onto me.
Let me summarize the fragrance notes for you:
Top notes: Pear, Ambrette Seed, Grapefruit
Heart Notes: Turkish rose absolute, Ylang-ylang, Plum, Prune
Base Notes: Patchouli, White musk, Amber, Cashmere, Madagascan Vanilla.


The heroine of the campaign, Bar, commented: "I adore the ESPECIALLY ESCADA fragrances as they are based on my favourite flower, the rose, and are all delicate and feminine, elegant yet youthful. There's one for every occasion: a classic daytime Eau de Parfum I take everywhere with me; the fresh and light Delicate notes which is ideal for a hot summer day; and now Elixir is perfect for an evening when you're getting ready to go out and want to have an extra touch of rosy feeling!"


For me, I'll summarize Especially Escada in 2 words:
Beautifully Blended.